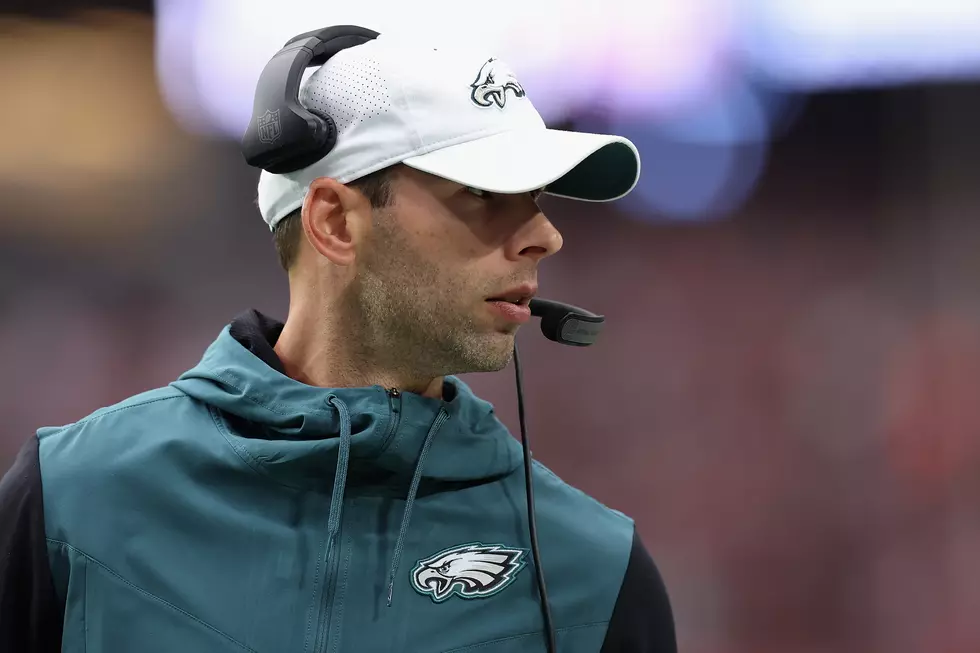 Report: Eagles making effort to keep Jonathan Gannon in fold
Getty Images
Philadelphia Eagles defensive coordinator Jonathan Gannon remained in Arizona after Super Bowl LVII to meet with the Cardinals about their head coaching vacancy.
While Gannon's unit had a rough night in the Super Bowl, the Eagles may try to keep him around according to Albert Breer of Sports Illustrated's MMQB.
I have heard, for what it's worth, that the Eagles have made an effort to keep Gannon in the fold, with the Arizona interest having been rumored for a while.
Arizona's defense ranked 31st in points per game allowing (26.4) only ahead of the Bears (27.2).  His Eagles gave up just 20.2 points per game, eighth best in the NFL and his ability to turn the Eagles defense into one of the top units in the NFL makes him a target for the Cardinals.
Eagles fans have been quick to criticize Gannon all season, after giving up just 14 points in two playoff games, his unit allowed the Chiefs to scored on all four of their second-half drives, totaling 24 points. Patrick Mahomes went 13-of-14 in the 2nd half, becoming the third starting QB to complete at least 90% of his passes after halftime in a Super Bowl.
Regardless of who the defensive coordinator is next season, they might have a drastically new look, with some key free agents on that side of the ball.
DE Brandon Graham: 11.0 sacks, tied for 2nd on team
DT Fletcher Cox: 7.0 sacks, 43 tackles
DT Javon Hargrave: 11.0 sacks, tied for 2nd on team
CB James Bradberry: 45.9% comp pct allowed as nearest
defender (3rd best per NFL Next Gen
Stats)
S Chauncey Gardner-Johnson: 6 Int, tied for most in NFL
S Marcus Epps: Led Eagles in defensive snaps played
(1,058)
11 Craft Breweries to Try at the Jersey Shore!