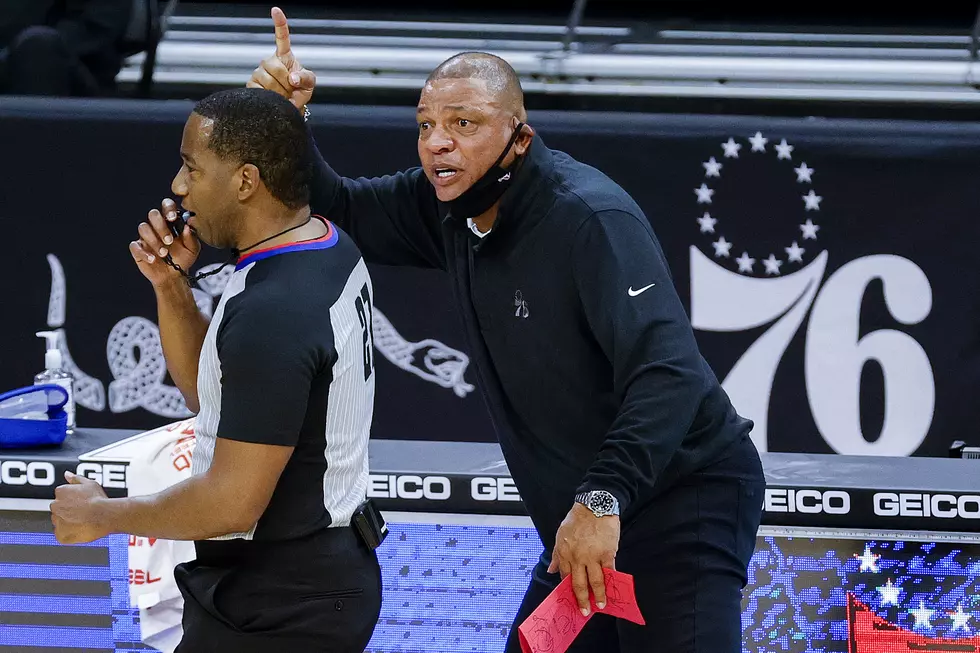 Report: Lakers Haven't 'Abandoned Hope' Doc Rivers Becomes Available
(Tim Nwachukwu, Getty Images)
The Los Angels Lakers are said to be down to their final three coaching candidates to replace Wildwood high grad, Frank Vogel.
Those names are Darvin Ham, Terry Stotts and Kenny Atkinson.
However, according to veteran NBA reporter Marc Stein from the New York Times, the Lakers haven't "abandoned hope" that current Sixers head coach Doc Rivers will become available this summer.
For Rivers to become available, he and the Sixers would have to part ways, which to this point, doesn't seem likely.
Friends of the show, Paul Hudrick from Liberty Ballers and Michael Kaskey-Blomain from CBS Sports, both reported recently that there was no truth to any rumor connecting Rivers to the Lakers.
Now both Hudrick and Kaskey-Blomain mentioned there is no truth to a trade to the Lakers, but I guess it is still plausible (not that I think it will happen), that Rivers either resigns, is fired, or the two sides agree to part ways.
Sixers President of Basketball Operations Daryl Morey said after the team was eliminated by the Miami Heat in six games that Rivers would be back next season.
"I love working with him. I feel like I'm learning from him," Morey said.
Rivers will be entering his third season with Philadelphia, going 100-54 (.649) during the regualr season, but hasn't gotten out of the second round of the playoffs losing to the Hawks and Heat.
Rivers reportedly has three years and $24 million remaining on his contract with the Sixers.
May is Burger Month! 25 Atlantic County Burgers You Have to Try