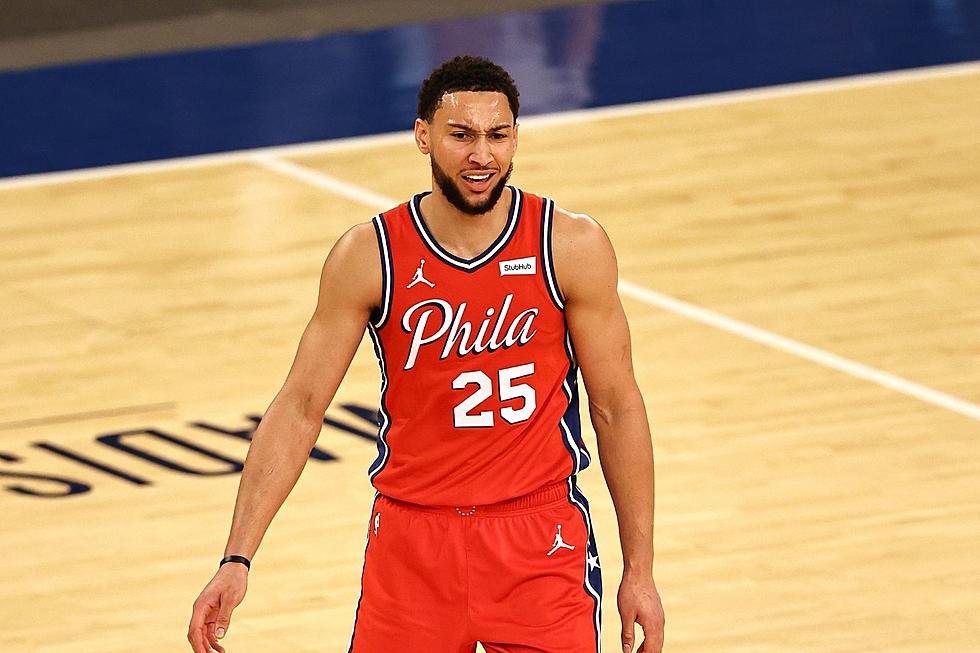 Report: Sixers Trade talks involving Ben Simmons heating up
(Photo by Elsa/Getty Images)
After week's of speculation and rumors, there are now new reports that the Philadelphia 76ers' trade conversations involving Ben Simmons are heating up according to ESPN NBA Insiders Adrian Wojnarowski and Zach Lowe:
As we wrote about earlier this week when we spoke with Bally Sports NBA Insider Brandon "Scoop B" Robinson, the December 15th deadline is the point when more players are available to be traded and that was the date we told you for weeks to keep an eye on.  Ben Simmons' contract presents a unique obstacle to be moved since he has three more years after this season left on his contract with almost 114 million guaranteed to be paid to him through his 28-year-old season.
ESPN NBA Insiders also reported that one coveted superstar in unavailable to be traded and reporting says that player along with their team has no interest in a divorce any time soon:
This follows up Damian Lillard saying on Sportscenter with Scott Van Pelt this week that he wants to stay in Portland to be a part of the team's rebuild.  None of this is breaking news to our listeners because on Tuesday's GameNight with Josh Hennig, Bally Sports NBA Insider Brandon "Scoop B" Robinson told 973 ESPN:
"If you go back to my reporting in 2019 where I talked about Ben Simmons and him not wanting to be in Philadelphia and him being afraid of the backlash that he would get had he voiced it a certain way...and this is my opinion, look at the end result with Ben Simmons, it's about how you go about it (that matters) - As it relates to (Damian) Lillard, I think he is saying the right things....I have also felt as though many people in Portland maybe felt giving up Simmons for Lillard was not a fair exchange and that maybe the (CJ) McCollum (Trade) piece was more to Portland's liking and I don't think (Philadelphia) and Portland saw eye-to-eye on that....I say all of that to say that we are kind of in this logjam and I think a lot of things will start to make sense in the next couple of weeks."
So what is next for the 76ers?  Well once we hit next Wednesday, more players available means more contracts can be moved which makes it easier to make the dollar numbers work with the NBA Salary Cap.  Aside from the Portland Trail Blazers, other teams that could come into focus in trade talks including multiple teams in a Ben Simmons blockbuster are the Minnesota Timberwolves, Indiana Pacers, Sacramento Kings, Cleveland Cavaliers, and San Antonio Spurs.  According to NBA Insider Brandon "Scoop B" Robinson, he says the NBA Franchise under the most pressure to make a move are the Timberwolves:
"The Minnesota Timberwolves - I think it's a combination of the pending ownership change (and) I also think that it's (about) keeping Karl-Anthony Towns happy. I was with Karl (on) Wednesday of last week and spent a little bit of time with him, he's living his best life, he's enjoying his role in a Timberwolves uniform, he's saying all the right things, he enjoys his role with D'Angelo Russell, and I know that at some point it's going to be sink-or-swim on both sides with Timberwolves and Karl. (Timberwolves) love him...they got so much respect for him (because of) the magnitude of his leadership and his relationship with the (Minnesota) Front Office."'
South Jersey Describes Ben Simmons in 4 Words or Less