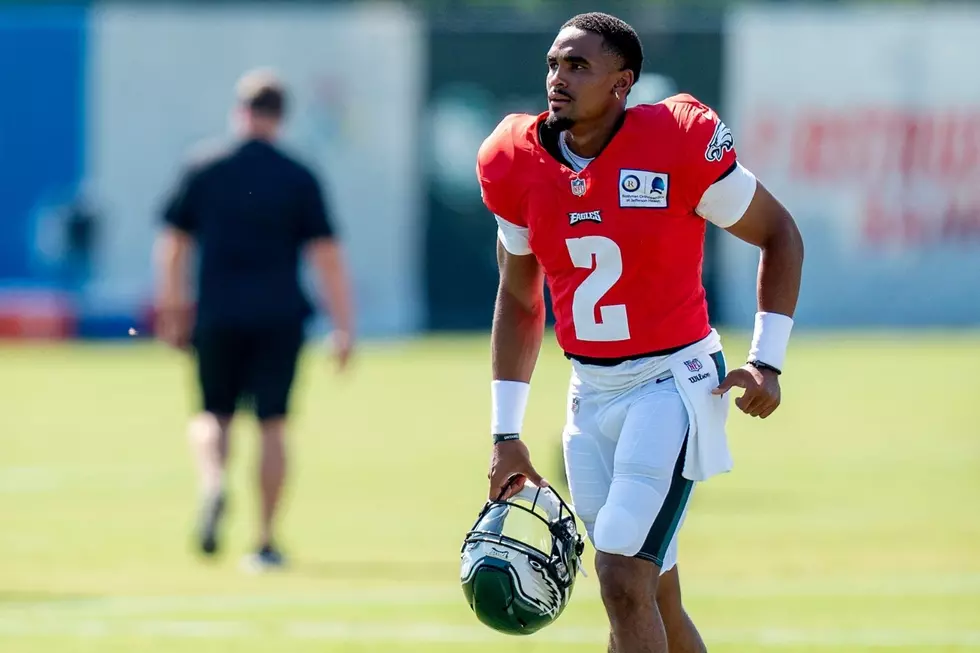 Report: Teams Around NFL 'Keeping an Eye on Philadelphia's QB Situation
(Photo by Chris Szagola-Pool/Getty Images)
When things aren't going well in the NFL, people want answers.
When the Eagles traded away Carson Wentz, most fans were willing to give Jalen Hurts a chance to prove he deserved to be the teams starting quarterback.
So far the reviews are mixed.
Hurts has tossed for 1,716 yards, 10 touchdowns, four interceptions, completing 61% of his passes. He has added five rushing touchdowns and 361 yards on 66 carries.
After seven games, a 2-5 record and a lot of inconsistent play, head coach Nick Sirianni is starting to get questions about his second-year signal caller.
Here is an exchange that Sirianni had with Bo Wulf from The Athletic on Monday:
Q. Have you considered making a change at starting quarterback? 
NICK SIRIANNI: No.
Q. Is there a point in which you would like to see Gardner at all?
NICK SIRIANNI: No, I got a ton of faith in -- obviously, I really like [QB] Gardner [Minshew] and I think he's a good backup. But I got a ton of faith in Jalen [Hurts]. He will be our starting quarterback.
While Sirianni firmly stated that he has not considered making a change at quarterback, ESPN Jeremy Fowler suggests that teams around the league are keeping an eye on the teams QB situation.
"Some teams around the league are keeping an eye on Philadelphia's quarterback situation — and whether Gardner Minshew gets a shot eventually. The consensus is the Eagles continue to stay with Jalen Hurts in the short term. But if the slide continues, coach Nick Sirianni might not have a choice.
This line of questioning came after the team moved Joe Flacco on Monday night to the New York Jets, which allowed Minshew to move up the depth chart.  Minshew was acquired before the start of the season for a conditional sixth-round pick and had pretty good success during his time in Jacksonville.
In 23 career games, Minshew has 37 touchdown passes and 11 interception, completing 62.5% of his passes. He has also ran for 497 yards on 97 carries.
If the Eagles lose to the 0-7 Lions, expect the coach to get more questions about his quarterback.
What South Jersey Eagles Fans Think of Nick Sirianni