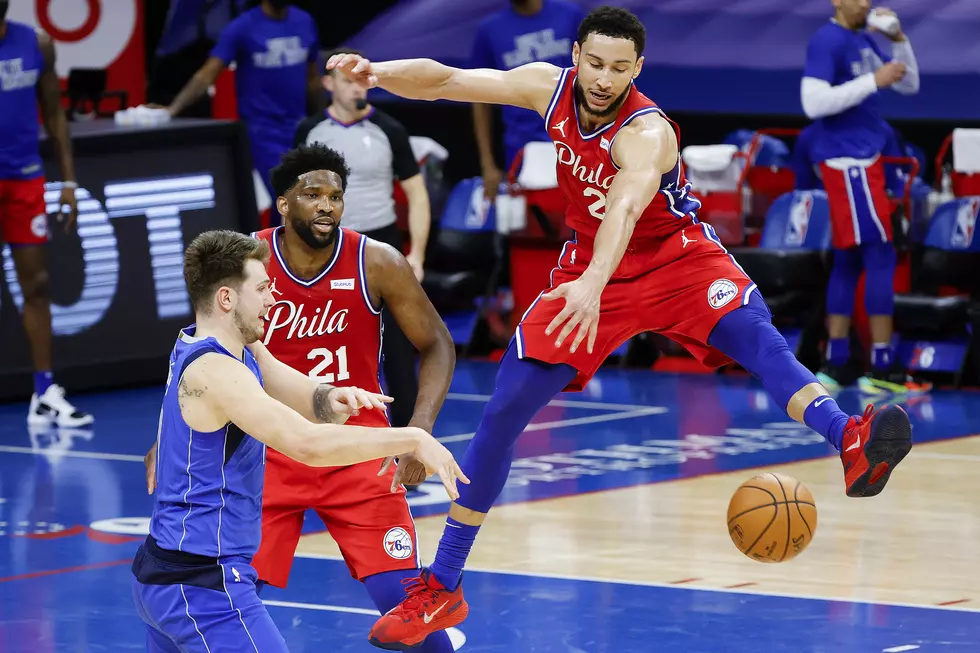 Simmons' Elite Defense, Strong Bench Outing, More Takeaways From Blowout Win
Tim Nwachukwu, Getty Images
The Sixers sure needed a game like Thursday's.
After two tough road games against the Raptors, the Sixers returned home and crushed the Mavericks, 111-97, at the Wells Fargo Center. The win improves the Sixers to 14-2 at home and 22-11 overall. They still hold a half-game advantage over the Nets for the East's top spot.
Ben Simmons' elite defense, a strong outing from the bench, and more takeaways from Thursday's victory.
Simmons Locks Up Luka
Despite Dallas' record, Luka Doncic is still having an outstanding season and has rightfully earned his second All-Star appearance. He was coming off an epic game against the Celtics where he buried two ridiculous step-back threes late, including the game-winner with 0.1 seconds left.
No such performance was in the cards for Doncic Thursday.
Simmons, who has done well against Doncic in the past, visibly frustrated the Slovenian star from the opening tip. The Sixers built a 16-point lead going into halftime in large part because of Simmons holding Doncic to 3 of 9 shooting and just two assists. Doncic committed five turnovers in the first half alone.
With Simmons being long enough to guard against Doncic's step-back three and strong enough to get through screens and challenge Doncic in the paint, it blew up the Mavs' offense. Joel Embiid was also excellent against the pick-and-roll, leaving Doncic in a no-win situation in the paint. And since Simmons didn't need help, the rest of the players on the floor were able to stay glued to Doncic's outlets.
It was easily one of the Sixers' best defensive efforts this season.
"I think we were locked in through four quarters defensively," Simmons said postgame. "There's always going to be lapses, but overall, I think that was the best defensive game collectively we've played."
And what led to his success against Doncic?
"Just being me. Doing what I do," Simmons said. "I like taking those challenges. I've said this over and over again, just tell me who to guard."
In the second quarter, it appeared that the elite defense led to a surge from Simmons offensively. He started to muscle his way through Dallas' defense and get to the rim. He scored 9 of his 15 points in that period.
He added seven assists and had zero turnovers in a little over 32 minutes overall.
"I'm just glad that he is really realizing how great he is," Dwight Howard said. "His energy, his effort has been top of the line. I want him to continue to do that and stay and humble and hungry. The sky's the limit for Ben. Like I said at the beginning of the season, [he's like] LeBron James. He has everything."
The Bench is a Plus
We've all been critical of the Sixers' bench and for good reason. The second unit has struggled recently, and it was only exacerbated by the absence of Shake Milton.
In just his third game back after a five-game absence (left ankle sprain), Milton started to look like himself. The numbers aren't eye-popping. He was just 4 of 13 from the field for 10 points, but he also tied a season-high with seven assists.
Milton's ability to run the offense was sorely missed. The strength he added this season also allows him to get to his spots on the floor more easily. While he missed a few shots in close, he stretched the Mavs' defense and opened opportunities for others.
Doc Rivers mentioned that finding his teammates has been a recent focus for Milton.
"I thought it was his best point guard night," Rivers said of Milton. "I think Shake has basically been a scorer for us. I think tonight he was a great passer for us and got everybody else going. I think in return, then Shake started getting it going. Very proud of that. That's one thing we've been really working on, him being a better passer, and tonight I thought he was fantastic."
One of the teammates that was the biggest beneficiary was Howard. The 35-year-old looked spry as ever with a few big dunks that harkened back to his "Superman" days in Orlando.
He tied a season-high with 14 points and added eight rebounds and three blocks. While Howard has his shortcomings as a throwback big, he is third in the NBA in rebounding percentage. When he plays within himself, these are the types of games he's capable of.
The Wells Fargo Center started playing the Superman theme every time Howard scores. It's a nice touch. Maybe it gave Howard a boost.
Embiid's Struggles; Harris' Injury
Embiid's recent shooting woes continued. Since dropping his first career 50-point game, Embiid has shot 26.4 percent from the field over his last three games. Embiid had a strong second quarter, scoring 13 points on 4 of 7, but then went 0 of 7 in the third.
Unlike against Toronto, there appeared to be plenty of good shots that Embiid has hit this season that simply didn't go in. Even MVPs go through stretches like this throughout a season. The positives are that Embiid is likely to bounce back and that the Sixers have won two out of the last three with him struggling from the field.
The only real negative from last night is that Tobias Harris was forced to leave the game in the third quarter with a right knee contusion. He did not return, and Rivers had no update postgame.
Harris has been the Sixers' most durable player since he arrived here from the Clippers. Harris has missed five total games as a Sixer – three earlier this season because of health and safety protocols, one last season in the bubble when Brett Brown rested his starters, and Game 82 his first season here (keep in mind he already played 82 games that season because L.A. played one more game than the Sixers).
Though he didn't make the team, Harris is having an All-Star caliber season for the Sixers. He's averaging 20.2 points a game with extremely efficient shooting slashes – 51.3/41.1/89.1.
Sixers First-Round Picks Since 2000