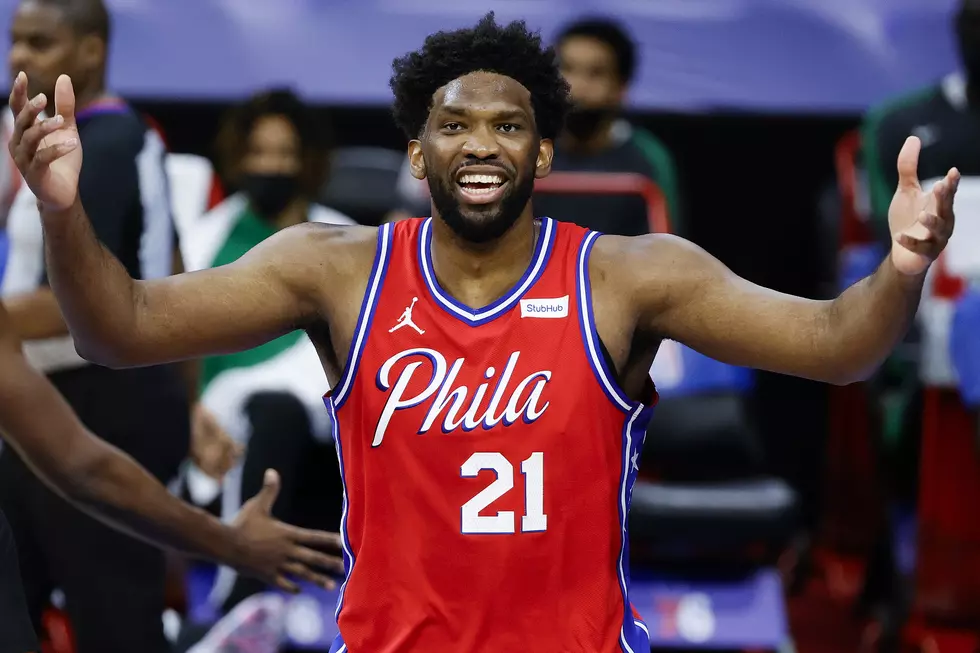 Sixers' Joel Embiid Ranked in Sports Illustrated's Top 10 Players of 2021-22
(Tim Nwachukwu, Getty Images)
After finishing as the runner up for this year MVP award, Joel Embiid was ranked in the top 10 of Sports Illustrated's Top 100 NBA players of 2021-22.
Positions 100-11 were revealed earlier this week, with three Sixers landing in the Top 100 spots with Seth Curry (82), Tobias Harris (50) and Ben Simmons (32) already on the list.
This year Joel Embiid jumped two spots in 2021's rankings going from No. 10 to the No. 8 spot in this year's ranking.
When he is at his best, there is nobody in the league who can match up with Embiid. His combination of size, strength, power and touch is the antidote to the spacey style of modern basketball. Embiid is a dominant low force presence in a league continuously less familiar with those types of players. And in addition to his prowess on the block, last season Embiid turned in a stellar performance as a midrange shooter. The increase in efficiency from the midrange plus excising lazy threes led to the best scoring average and field-goal percentage of Embiid's career.
The center averaged 28.5 points per game, 10.6 rebounds and 2.8 assists in 51 regular season games.
Embiid sits just ahead of Kawhi Leonard (10) of the Clippers and Anthony Davis (9) of the Lakers.
The seven players in order ahead of Embiid are: James Harden, Luka Dončić, Nikola Jokić, Stephen Curry, LeBron James, Giannis Antetokounmpo and Kevin Durant.
SI's Rohan Nadkarni also recognizes Embiid  as one of the premier defensive presences in the NBA but also mentions that his health is the reason for him landing where he did on the list and not higher.
On the other end of the floor, Embiid's presence in the paint all but guarantees a top-flight defense. Even if he's not the type to switch onto guards, Embiid is still more than capable of sticking with smaller lineups—particularly when he's in great shape. If there's anything holding Embiid back from winning more individual accolades—and a higher spot on this list—it's his health. Injuries are a persistent problem for Embiid, even if he was willing to battle through a torn meniscus during the Sixers' most recent playoff run.
The writer also acknowledges that Embiid can be the best player in the league if healthy and if he was a team that has a roster better built for his skill-set.
On any given night, Embiid can be the best basketball player in the world. He's a unique two-way force, and there's still room for more once he finally plays on a roster optimized for him.
It was reported on Thursday that Embiid will be a full go for training camp, according to David Aldridge of The Athletic. Embiid suffered a torn meniscus during the first round of the playoffs, but still managed to play in the seven game series against the Hawks, after missing two games in the Washington series.
Breweries in Cape May County You've Gotta Check Out
Looking to sip on some locally-crafted beer while kicking around Cape May County? Check out these breweries.