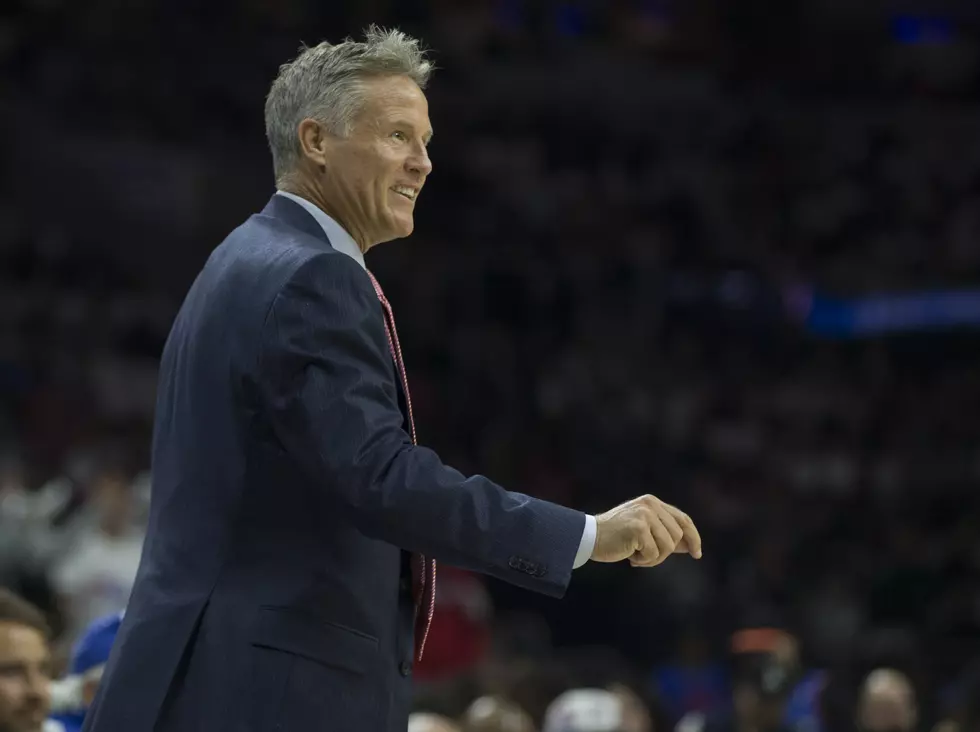 Sixers Offseason has Been a Success
(Photo by Mitchell Leff/Getty Images)
While the Sixers swung and missed at the top names in NBA free agency, their offseason has been a success.
Brett Brown said the team is "star hunting", and "star developing", he never said it was going to happen during the 2018 offseason.
The message is clear, they are going to swing for the fences, and if they can't connect, they will continue to develop their current roster, which includes multiple star level players, all while making sure they have the ability to be in play the next time the stars are available.
Did everyone want to land that star now?
Of course, everyone wants to play at ludicrous speed, sometimes that is out of your control. So instead of hitting the panic button, which is human nature, the Sixers are staying the course, of star developing with their current core of  players, which includes Joel Embiid and Ben Simmons.
After three seasons of losing, people want results, and they want them now. The offseason is still on-going, but has been a success, improving a 52-win team, while maintaining flexibility for future seasons to continue to improve the current product.
The team won 52 games and a won a round in the playoffs, with a rookie, and two second-year players as the main pieces of the puzzle, while the No. 1 overall pick in the draft played just 14 games is set to return to the floor this season.
But are the Sixers a better team today than the one that lost to Boston in the second-round of the playoffs?
"Absolutely, hands down," Sixers analyst Marc Jackson said on The Sports Bash on 97.3 ESPN.  
"This is a better defensive team, they have a few more play-makers, I'm impressed. So to answer your question, 100% this team is much better with the new kids they have now."
Sure, the team lost a pair of shooters, letting Marco Belinelli and Ersan Ilyasova walk in free agency, but they have continued to replace them with younger more athletic players, while adding cap space for the 2019 free agent class.
Belinelli and Ilyasova both added to the Sixers offensive down the stretch, after being signed just after the trade deadline last season, but their short comings on the defensive end were glaring in the playoff series loss to Boston.
"What was the problem with Boston,' asked Jackson. "They were too versatile and we could not guard them. They attacked the mismatches, they attacked JJ, they attacked Ersan (Ilyasova), they attacked (Marco) Belinelli. To the point that coach Brett Brown had to alter is lineup, as far as the way he does his rotation, because it was so obvious they were attacking the Sixers."
In their place the Sixers have added more athletic defenders, while replacing their shooting, added rookie wing-man, Zhaire Smith, a defensive-minded player, who might have been the most athletic wing in this years draft.
Also in the fold is rookie Landry Shamet a 44% three-point shooter in college, who can help handle the ball in the back-court, something the team was lacking a year ago.  He is a very good pick-and-roll shooter, who could offer similar skills as T.J. McConnell with better three-point shooting.
"I thought Brett Brown did an exceptional job as his first time being a general manager of making the roster better, building through the draft," Jackson explained.
Another player the Sixers added to help defend and shoot is 10-year veteran Wilson Chandler, a two-way wing player that can match-up with more athletic wings out on the perimeter that the Sixers struggled with last season.
"First of all, Wilson Chandler has always been underrated his entire career," Jackson stated. "I think they get a player that is similar in defense as Roco, but he has the ability to put the ball on the floor and create for himself and other people. Roco is a spot up shooter as well as a defender, he is a 3 and D kind of guy, but you cannot expect Roco to put that ball on the floor and create. When he puts the ball on the floor you're kind of like panicking, like okay there is a possibility of a turnover. With Wilson Chandler you get a defender, you get a person who is not as good of a 3-point shooter as Roco, but he's still a good 3-point shooter, but you also get another guy who can create his own bucket. So he is another person Boston has trouble guarding. What they had to worry about with JJ, Belinelli and Ersan, if we put the ball on the floor we win that battle, with Wilson Chandler you can't do that. So that's another person the 76ers get better with."
2017 draft pick Jonah Bolden is an athletic defender, who is a rim-protector, and three-point shooter who gives the Sixers more depth and versatility.
Finally, with their mid-level exception, the team landed a veteran three-point shooter, Nemanja Bjelica. The 6-foot-10 stretch four, connected on 41.5% from beyond the arc last season, better then both Belinelli (38%) and Ilyasova (36%) shot during their Philadelphia last season.
The real wild card here is last year's No. 1 overall pick, Markelle Fultz.
"He is the ace of spades," Jackson acknowledged. "He is the wildcard."
The Sixers have kept Fultz out of trade talks in a potential Kawhi Leonard deal, according to Adrian Wojnarowski of ESPN.com, which could indicate the Sixers believe their No. 1 pick is ready to contribute the way they had anticipated when they traded up to take the 20-year old guard in lasts year draft.
Fultz continues to work out in Los Angeles with shooting coach Drew Hanlen, in hopes to find the form that allow him to connect on 41% of three-point shots at the University of Washington.
In 14 games last season, Fultz averaged 7.1 points, 3.8 assists, 3.1 rebounds and 0.9 steals in that span, missing 68 games due to a shoulder injury.
"I really believe that Fultz is going to give them 15 point a game this year, I truly believe that,' said Jackson.
The Sixers are a better team today then the team that was eliminated against Boston, all while still being able to hunt for stars in the future.
"I think they had a very good offseason," Jackson said. "If I gave them a grade, I give them a B. I would not give them an A no matter what people say, I would definitely give them a B, they would only get an A if they land Kawhi."