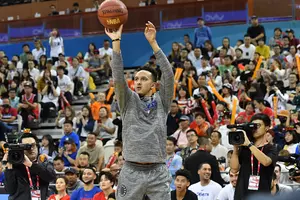 Sixers Preseason Evaluation: The Bench
NBAE/Getty Images
The Philadelphia 76ers finished up their preseason schedule on Monday in China. They posted a 3-1 record and we learned a lot about a team coming off of an impressive 52-win campaign in 2017-18. In a general sense, the Sixers looked good during preseason play, but there are signs of last season's issues still lingering from time-to-time, whether it be turnovers, committing too many fouls or missed defensive assignments. On the positive end, Sixers big man Joel Embiid looks poised for another big season, we got to see some impressive performances from rookie Landry Shamet and second-year guard Markelle Fultz displayed some very encouraging signs on the road back from his rebuilt shot.
On Monday, we took a look at how the starting lineup fared in the preseason. Today, we evaluate the bench unit. At the start of last year, the reserves included guys like Justin Anderson, Timothe Luwawu-Cabarrot, Jerryd Bayless, Amir Johnson and Richaun Holmes. This season, the Sixers start well ahead of that group in terms of talent:
Jerryd Bayless: In the final year of what seems like an eternal three-year contract, Bayless surprisingly appeared in Brett Brown's rotation in the team's first preseason game. Brown was encouraged by the way Jerryd was performing in practice and decided to put him into the rotation to start the preseason. The veteran point guard injured his knee in practice prior to their second preseason game and has been unable to play since. Depending on when he comes back, Bayless could find some minutes if the Sixers want to dangle him in a trade, but with the emergence of Landry Shamet, Bayless may once again be a steady DNP - Coach's Decision.
Jonah Bolden: As expected, Bolden got garbage time minutes for the majority of the preseason, but he made the most of his time on the court. After a Summer League showing that saw him airball some three's and just look sluggish all around, Bolden showed some nice things during the preseason. Defensively, he got to his spots and didn't get lost too much on assignments and on offense, he shot the ball well. He shot 6-for-12 and went 4-for-9 from beyond the arc. Bolden is unlikely to crack the rotation unless Joel Embiid and Amir Johnson get into foul trouble or an injury occurs. That being said, he could also get a look at the four behind Dario Saric and Mike Muscala. To start the season, though, it's hard to imagine he gets any meaningful minutes.
Wilson Chandler: Chandler played less than four minutes in the preseason before injuring his hamstring. When he's healthy, Chandler should still get consistent minutes off the bench as a physical defender and as a guy who can both drive to the basket and hit triples from time-to-time.
Amir Johnson: For a guy who isn't appreciated nearly enough for his steady play, Amir Johnson again showed why he's a valuable veteran on this team. Offensively, he's not going to do a whole lot, or really anything at all, but his presence on defense when it comes to being in the right place and covering the pick-and-roll, it's hard to be disappointed with his contributions. Johnson played a little over 12 minutes per game, averaging 4.0 points and 3.5 rebounds. He doesn't turn the ball over much and holds down the fort in the post while Embiid rests, which is really all you can ask for out of the guys. It's worth noting that Johnson averaged far fewer minutes than Dario Saric and Mike Muscala, so the back-up center minutes may not be all his.
Furkan Korkmaz: Although the majority of his on-court time was in the fourth quarter of games, Furkan showed flashes of his offensive talent whenever he took the floor. In 12.4 minutes per game, the Turkish guard averaged an impressive 10.3 points on 62.5 percent shooting with 53.3 percent mark from three-point range (15 attempts). If Wilson Chandler misses more time to start the season, Korkmaz could get a look, but he still needs plenty of work defensively. That alone will keep him out of Brown's rotation.
T.J. McConnell: TJ was relegated to running the third unit in the preseason for the most part and whenever he touched the court, he did what he does best - be a pesky defender, push the pace and hit jump shots within 10 feet. With Markelle Fultz healthy, T.J.'s role becomes diminished for now, but he always seems to find a way to get on the court no matter what stands in front of him. As we've seen in the past, Brett Brown has a soft side for T.J., so any time the team needs a spark off the bench, expect McConnell to get the call and inject energy into the team. In just under 12 minutes per game, McConnell averaged 5.8 points and 2.8 assists.
Mike Muscala: Muscala looked off offensively during the preseason, shooting just 28.6 percent from the floor and 23.1 percent from beyond the arc.  At this point, don't be too worried about Muscala's offense, it'll come. Per HoopsHype, he ranked in the 81st percentile on corner three's last season, making him one of the most accurate shooters at his position from that spot. Brown likes his versatility and the ability to stretch the floor, so he could see some time at center as well. At 6-foot-11, he can guard forwards and centers as well. Expect him to be one of the first guys off the bench.
JJ Redick: After the Sixers missed out on their star-hunt, they went on to sign JJ Redick to another one-year deal. If the preseason is any indication as to how Redick will perform this year, the Sixers bench unit will be one of the bests in the league. With Markelle Fultz starting, Redick has been coming off the bench and excelling in the role. In 21 minutes per game during the preseason, Redick averaged 15.8 points on 58.8 percent shooting and 56.5 percent from beyond the arc. In Philadelphia's first game against Dallas in China, Redick went a perfect 10-for-10 from the floor, including seven triples. Brett Brown said that he plans to continue with Fultz starting, but is considering starting Redick in the second half.
Landry Shamet: Can you say draft steal? Selected at No. 26 in the 2018 NBA Draft, Shamet went over-looked by some who were disappointed in the Sixers for trading Mikal Bridges. It didn't take long for Landry to become one of the top storylines of the Sixers preseason though. He got just fourth quarter minutes in the first game, but injuries to Wilson Chandler and Jerryd Bayless put him into the regular rotation and he should be there to stay.
He's not perfect defensively, but comes from a defense-driven program at Wichita State. He moves his feet well and is still way ahead of Korkmaz in that aspect. Offensively, his jumpshot is smooth and he looks locked in from beyond the arc with a quick shot release. In just over 18 minutes per game during the preseason, Shamet averaged 8.8 points on 40.7 percent shooting with a 35.3 percent mark from beyond the arc. He's been side-by-side with Redick throughout training camp and practices and in-game, you can see that he's working off of picks to get open for three-pointers.