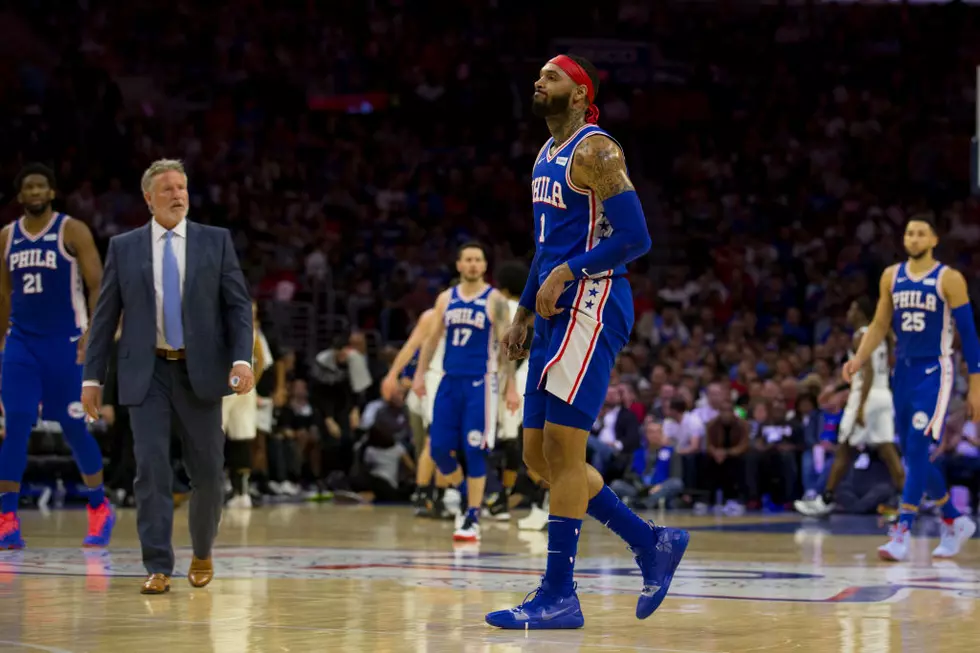 Sixers Will Roll Without Mike Scott for Game 2 vs. Raptors
Mitchell Leff, Getty Images
At this point, there is no reason to be optimistic for a Mike Scott return for the Philadelphia 76ers anytime soon. Just last week, the Sixers' backup forward left Game 5 against the Brooklyn Nets early before the half while visibly struggling to walk. His post-game diagnosis was a heel contusion. Although the Sixers were fortunate enough to have Scott avoid a major injury, he's still going to miss some games during the remainder of their playoff run.
Sixers' Head Coach Brett Brown was very clear heading into Saturday's game that he was doubtful Mike Scott would be able to play. And unlike Joel Embiid's injury situation, Scott was seriously heading into the matchip with little-to-no expectations of playing. As expected, he was ruled out for the first game as he sat on the side in a suit, supporting a walking boot for his heel injury. As Game 2 is set to tip off on Monday night, the Sixers are prepared to continue on without Mike Scott in the game plan,
While Scott isn't a starter, he's one of the Sixers' most reliable contributors off the bench. And as the Sixers struggled to stay within reach of the Toronto Raptors during Game 1 with their starters off the court, it was clear that Scott's presence was missed. Coach Brown teased a potential Zhaire Smith playoff debut, but it was hardly an event. Smith didn't end up getting into the game until Philly threw in the towel.
Instead of Smith getting Scott's minutes, the Sixers rolled with a heavy dose of Furkan Korkomaz. While Korkomaz has shown some flashed early on in the 2018-2019 season before getting injured, it's clear that he isn't going to be much of a positive factor in the playoffs. For Game 2, Brett Brown needs to come up with a better plan or else the Sixers are in for a long series as long as Scott is unavailable.