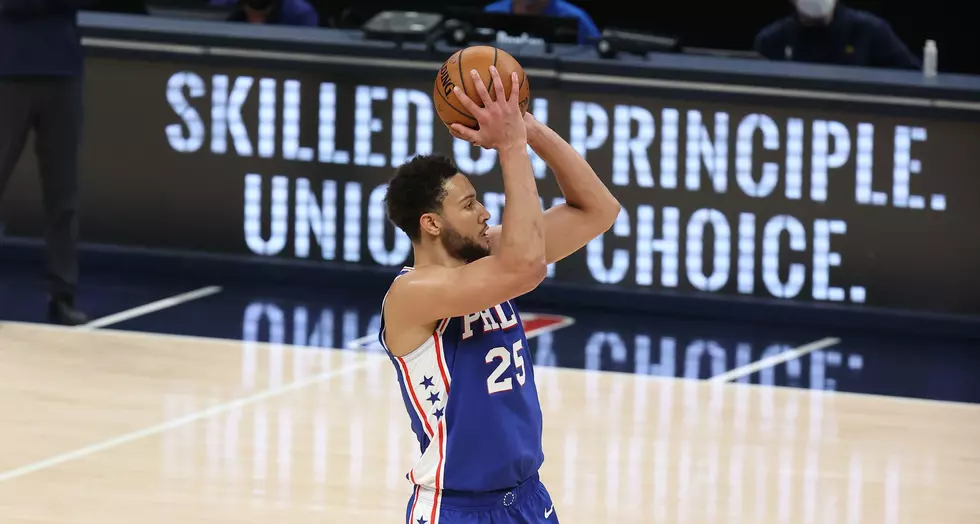 Takeaways from Sixers' Preseason Finale
Andy Lyons, Getty Images
The Sixers finished their two-game preseason slate with a 113-107 win on the road against the Pacers. They did so without All-Star center Joel Embiid, who was back in Philadelphia with a non-COVID-19 illness.
The Sixers came out of the gate sluggish, committing a bunch of turnovers and looking sloppy on both ends. They responded in the third quarter, eventually taking the lead with rotations players still out there for both teams.
Here are a few takeaways from the game.
Ben Simmons was passive in the first half of the first preseason game against the Celtics. He put any concerns over how aggressive he'd be against Indiana to bed with a drive to the basket on the first possession.
Simmons routinely got to the basket and either finished with authority or kicked it out to a shooter. Dwight Howard was in the starting lineup for Embiid and the future Hall of Famer provided Simmons with more ball screens in one preseason game than he's had during his entire career as a Sixer. The results were mixed, but you could see the potential.
With Embiid out, Simmons took over at times. It's encouraging in that Simmons seems to be understanding when the offense is stagnant and when he should look to score. What's discouraging is that Simmons has been way more aggressive when not playing with Embiid. That appropriate balance hasn't quite been struck.
But all credit to Simmons, who was the Sixers' best starter Friday with nine points, eight assists and five rebounds. As much as turnovers were an issue in this one – they committed 26 of them – Simmons, who's had plenty of issues with turnovers, had just two.
He also took a three! He missed, but it was a welcomed sight.
Howard's impact; Bradley's potential
Elton Brand signed Al Horford last offseason primarily as a pricy Embiid insurance policy. With Howard at the veteran minimum, it seems like the value will be exponentially better.
Howard was extremely active again Friday night. He was a factor on the offensive glass and screened and rolled hard to the basket, which led to 14 points on 7 of 7 shooting. He got into it with All-Star big man Domantas Sabonis, showing an added element of toughness this team could use.
He's not without his flaws. The Pacers were able to expose him a bit in pick-and-roll coverage. Howard will likely struggle against athletic, versatile bigs, but not many centers will be able to challenge him physically.
You also have to be impressed with the way Howard has conducted himself. His new teammates have been giving him credit throughout camp for his leadership and energy. He's said all the right things and appears to be a player that has put winning first. This has the makings of a solid signing by Daryl Morey.
Tony Bradley, acquired from the Pistons in the Zhaire Smith trade, showed off a bit of his potential. He's still a raw player at 22, but he's an active rebounder, is good at challenging shots without fouling and has soft hands around the rim. He'll get his opportunities when Embiid is out. His growth will be an intriguing storyline.
While Tobias Harris, Seth Curry and the starters struggled offensively, the Sixers' reserves picked up the slack in a big way.
Shake Milton (15 points, five assists) continued to justify the hype Doc Rivers has built up. Milton looks so smooth and so confident. His shot is falling and he's making great decisions with the basketball. He might just be able to fill that super sub/Lou Williams/Jamal Crawford role for Rivers.
The Sixers also got red-hot shooting nights from Furkan Korkmaz (14 points) and Mike Scott (12 points). Both players went 4 of 6 from three and looked more comfortable overall than they did against Boston earlier this week. They both seem to be on track for regular rotation minutes to start the season.
Howard, Milton, Korkmaz and Scott appear locked in as the first four off the bench. Where does that leave Matisse Thybulle and Tyrese Maxey?
Maxey (11 points) got some run in the first half with regular rotation players and did not look out of place. He continued to show his ability to get to the basket and his knack for finishing around the rim. He was hounded by former Sixer T.J. McConnell. We've seen what McConnell can do to veteran guards. The 20-year-old Maxey met the challenge, showing off his burst and using ball screens extremely well.
Maxey got into the game before Thybulle. Thybulle was OK Friday night after a rough outing against the Celtics. After the game, Rivers was quick to downplay any notion that Thybulle would not be a part of the rotation and attributed Thybulle's early struggles to the ankle sprain he was nursing early in camp.
There is one thing that's very clear: Maxey is coming for a rotation spot.
And he should get it … eventually.
Sixers First-Round Picks Since 2000