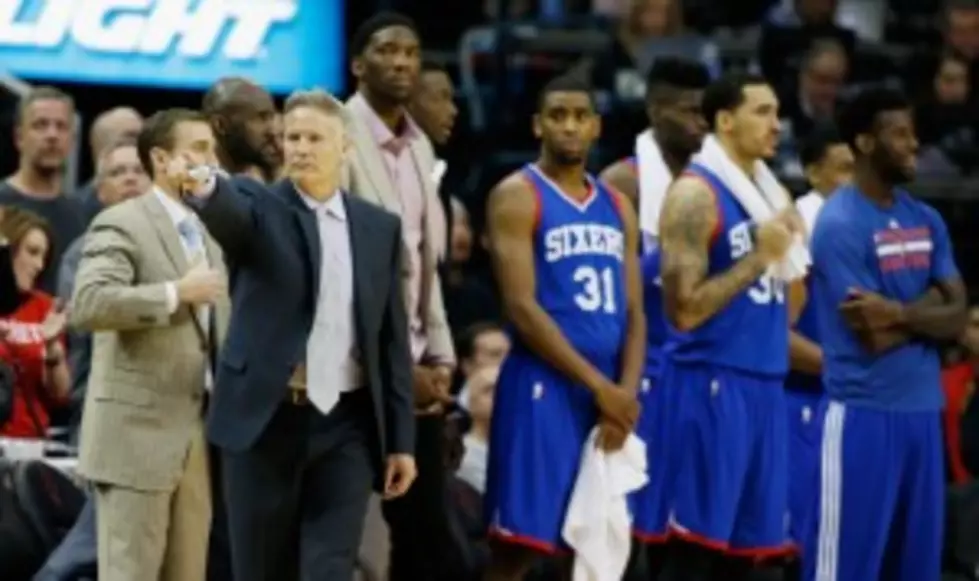 The Sixers Search for a Superstar Continues
For Sam Hinkie and Brett Brown (above left), the trade of Michael Carter-Williams for the Los Angeles Lakers draft pick is all about acquiring superstar player, which is the goal of this phase of the Sixers rebuild. (Photo by Scott Halleran/Getty Images)
Why would you go out and trade a player that you've spent the last 18-plus months developing, and trade him for an unknown quantity?
Why are you, once again, trading an established player for a pick years down the line that may or may not work out?
Why are you, once again, taking a step back and seemingly restarting the rebuilding process?
In the eyes of Sam Hinkie and Brett Brown, the answer seems clear: to put themselves in a position to get great players. Reading between the lines it seems clear that they may not have seen that in Michael Carter-Williams.
Listen to Sixers insiders Derek Bodner join Mike Gill to discuss the Sixers trades:
"Saying 'Here's the future, here's the cornerstone of the program,' I don't know if we ever did do that," Sixers head coach Brett Brown said about Michael Carter-Williams' status as a cornerstone of the franchise. "I hear why people might think it was insinuated, and I think we all hoped that that's what would happen."
"We are really focused on how do we find greatness," Sam Hinkie said when discussing the trade deadline activity. "The sort of greatness from a team level, and then greatness at an individual player level, and we're looking for that every day."
While Hinkie, who is incredibly desirous not to come out and say anything negative about one of his former players, wouldn't come out and say it directly, it appears the franchise didn't have confidence that Michael Carter-Williams would reach that level.
Could shooting be one of the primary reasons? It's one of those areas of the game that they've frequently talked about it being a coachable skill, something that is evident in the progress and continued development of Jerami Grant. But it's also something that is incredibly important in the modern NBA.
Looking at Sam Hinkie's former club, the Houston Rockets, who lead the league in three pointers with nearly 300 more than the team that has attempted the second most, indicates that the long ball is likely to play a bigger part in Hinkie's priorities once he gets his superstars in place.
"Over time I do think shooting is something that we'll [address]," Hinkie said. "All of the best teams are strong both offensively and defensively, and these days all of the best teams are really strong from behind the [three point] line as well."
Michael Carter-Williams' progress in that area over the years has simply not been significant.