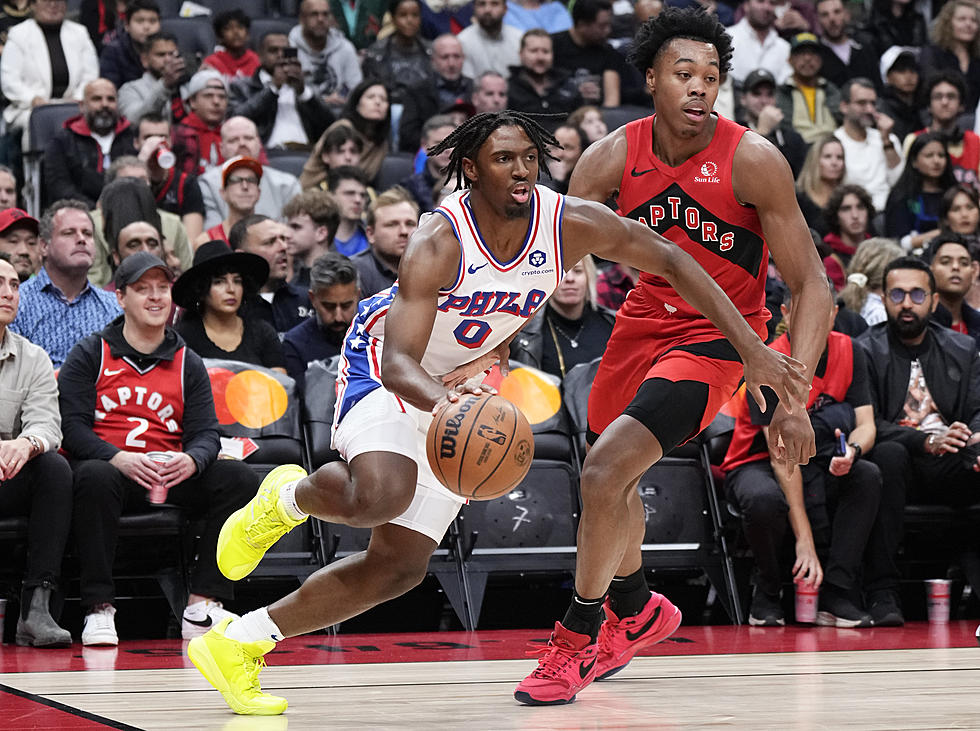 Three positives through three games for 76ers
Photo by Mark Blinch/Getty Images
The Philadelphia 76ers have played three games in the Nick Nurse era. After dropping the season opener to the Bucks in Milwaukee, the Sixers bounced back with two solid wins over the Toronto Raptors and Portland Trail Blazers. Three games is obviously a small sample size, but it's a sample size nonetheless. Here's a look at three positives through three games for Philadelphia.
1. The play of Tyrese Maxey
Tyrese Maxey has been given the keys to Philadelphia's offense in the absence of James Harden, and he's thrived so far. Just ask the NBA. For the first time in his career, Maxey was named Eastern Conference Player of the Week for the first week of the season.
He averaged 30.7 points, 6.7 rebounds and 6.3 assists over the first three games, and as the numbers indicate, he's been downright dominant on the offensive end. The scoring has been impressive, but so has the playmaking. Maxey has logged 19 assists and just three turnovers. He's been generating opportunities for his teammates while also taking care of the ball. Plus, he's shooting a blistering 56 percent from long range so far. He's quickly turning into a player who surprises me when he misses from long range. His development in that area from the time he entered the league has been extremely impressive.
Again, it's only been three games, but so far Maxey has looked like a bona fide All-Star and a legitimate sidekick for reigning MVP Joel Embiid. Now he just has to keep his foot on the gas.
2. Kelly Oubre Jr.'s production off the bench
Bench scoring, or the lack thereof, has been an issue for Philadelphia in recent years. The team made a move to address the problem by signing Kelly Oubre Jr. in free agency over the offseason, and so far he hasn't disappointed. He became an instant favorite in Philly by scoring 27 points on 9-of-11 shooting off the bench in his Sixers debut, and though the output and percentage dropped over the next two games, he was still productive, scoring a total of 30 points on 10 of 27 shooting from the floor.
Oubre scored in double figures in all three of his first games in a Sixers uniform, and while his ability to put up points shouldn't come as a surprise given the fact that he averaged 20 points per game with the Hornets last season, it does come as a breath of fresh air for fans in Philadelphia who have been starved for consistent bench production. 
With Oubre, the question isn't if he can score the ball. He can. The question is if he can do so somewhat efficiently while also bringing it defensively and elsewhere. If he can do those things decently, he'll continue to get ample opportunity to do the thing he's best at.
3. Jaden Springer's defensive potential
After failing to crack Philadelphia's regular rotation during his first two seasons in the league, there's optimism that this is the season that Jaden Springer will be ready to become a regular contributor. If that's going to happen, it's going to have to start on the defensive end for Springer, who has already flashed his potential on that end in the limited run he's received through the first three games of the season. He's played a total of just over twelve minutes in two appearances, and he's already managed to register a pair of eye-catching rejections. The first one came in the opener when he blocked a Dame Lillard oop attempt off the backboard.
The second came in transition against Portland, as Shaedon Sharpe's attempt at the rim ended up getting swatted against the backboard.
Both plays highlighted Springer's athleticism and defensive prowess. In order to maximize his time on the floor moving forward, he'll have to watch his fouls -- he had four fouls in less than eight minutes against the Blazers. He'll also have to be a plus player on the offensive end, which for him means getting out and finishing in transition and knocking down open opportunities for beyond the arc. Lastly, he must stay ready.
The Sixers are decently deep this season, and as a result his playing time will probably be inconsistent, especially early in the season. He needs to attack the minutes he gets on both ends, whenever his number is called. If he can string together some stretches of solid basketball he'll start to gain Nick Nurse's trust and cement himself as a rotation regular.
Bonus: Tobias Harris' efficiency 
Through three games, Tobias Harris has been extremely efficient on the offensive end. He's averaging 19.7 points per performance while knocking down two-thirds of his attempts from the floor and 54 percent of his shots from long range. These numbers are obviously going to come back down to earth, but Harris has done a good job of picking his spots so far this season -- using his size over smaller guys in the post, putting the ball on the floor and getting to the rim, and shooting from outside with confidence. Harris is a versatile scorer, and Nurse has done a solid job of tapping into that thus far.
Follow Michael Kaskey-Blomain on X @therealmikekb.