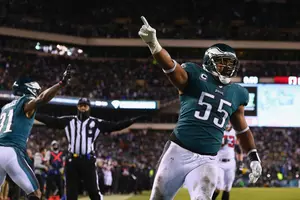 Turnover is the Only Certainty in Eagles Offseason
(Photo by Mitchell Leff/Getty Images)
PHILADELPHIA (973espn.com) - The page turns quickly in the NFL and if you're looking for the silver lining to the Eagles divisional-round playoff exit this season, it's the opportunity to better prepare for free agency and the draft.
The organization would clearly trade that ability for a second Lombardi Trophy of course but it also must embrace the consolation prize.
"I remember we got back Monday night from the Super Bowl [LII] and driving in Tuesday morning and just feeling like we're six weeks behind and we have to get up to speed," Eagles executive vice president of football operations Howie Roseman said on Tuesday when musing about how quickly things move when you get to play into February. "You think about how the calendar goes, and even at this time of year, you're jumping two things. Everything kind of happens quicker so you don't have as much time to kind of take a step back and you're rolling.
"But it's a great problem to have, and we're hoping to have the problem again going forward."
To do that the Eagles must make the right personnel decisions over the next few months, including the evaluation of their own pending free agents, the first project on the docket.
Among Philadelphia's 17 unrestricted free agents include Super Bowl hero Brandon Graham, starting middle linebacker Jordan Hicks and Doug Pederson favorite Darren Sproles, as well as decisions which will be complicated by injury like cornerback Ronald Darby and running back Jay Ajayi, who are both rehabbing from torn ACLs.
More so, something will have to be done with the $20 million mutual option the team has with Nick Foles and you have veterans under contract who could be in line for extensions, renegotiations or even retirement like All-Pro center Jason Kelce, future Hall of Fame left tackle Jason Peters and starting safety Rodney McLeod, who is also rehabbing from ACL surgery.
"The business part of this is there will be a new look in this locker room, the guys who won't be here," star defensive tackle Fletcher Cox said. "It sucks to see them leave knowing they were teammates and part of something special."
The hardest decisions are always the ones where emotion is attached, something Roseman acknowledged.
"It's hard," he said. "These are guys who have done a lot for this football team, for this organization and for this city. And they're also good people and people you like being around on an every-day basis. We're here a lot. We're in the building a lot. We're with each other a lot. So when you have people like that, it's hard to separate the emotion. That's why we try to put some distance between the season and when we do our evaluations and try to be objective about what we want to do going forward to improve the team."
Perhaps the most difficult decision of all is going to be Graham, the architect of arguably the biggest play in Eagles history, the strip sack on Tom Brady in Suoer Bowl LII.
B.G. is also a team leader and perhaps the most popular and engaging personality in the locker room, an intangible which can't be measured over the grind of any NFL season. No matter the day or the environment Graham brings the energy to the practice field and it's not easy to duplicate that kind of thing.
On the negative side, Graham is now over 30 and he's an edge player who has never produced double-digit sacks. His reputation as a two-way player is secure and the last big payday of his career looms, in this town or another.
"I understand where I'm at," Graham said. "I ain't going to be silly, now, because I only have so many years to do this. But hopefully ... if it's $2 million off from some [other team], obviously I'm going to stay where I'm at because I feel like people know me here."
Another tough choice will have to be made on middle linebacker Jordan Hicks, who produces when he's on the field but only one of his first four professional seasons haven't been interrupted by injury and his latest hiccup, a calf injury that cost him a month of the season before returning for the stretch run had Jim Schwartz sticking with Nigel Bradham as the every-down LB, not Hicks.
There is no obvious heir apparent for Hicks, though, as Nate Gerry is hardly proven. Hicks' future likely depends on the market and whether other teams want to write the big check based on the injury history.
"This place is special for myself, my family," Hicks said. "It holds a special place in my heary. We'll see what happens. No guarantees, it's part of the business. We all understand that but a lot can happen over these next few weeks so we'll see."
There actually is one thing guaranteed and that's change.
"Typically you're looking at 15 to 20 percent turnover of your roster in every year," Roseman explained. "Some of that is just based on attrition. Some is based on decisions you have to make. It's very important also that we keep our core together and that we maintain the culture that coach [Doug] Pederson and his staff have built and continue to keep leaders here to show our young players the right way to do things.
"We're going to try to make sure we do everything possible to field the best possible team. This isn't a situation where we're looking to have just a youth movement. We're looking to compete at a very high-level next year and really hopefully be doing that for as long as we're standing up here."
2019 PHILADELPHIA EAGLES UNRESTRICTED FREE AGENTS:
DE Brandon Graham
MLB Jordan Hicks
WR Golden Tate
CB Ronald Darby
DE Chris Long
RB Darren Sproles
RB Jay Ajayi
TE Richard Rodgers
LB Paul Worrilow
LB D.J. Alexander
LB LaRoy Reynolds
WR Jordan Matthews
WR Mike Wallace
DT Haloti Ngata
OG Chance Warmack
S Corey Graham
S Chris Maragos
QB Nate Sudfeld
LS Rick Lovato
EXCLUSIVE RIGHTS FREE AGENTS
LB B.J. Bello
K Jake Elliott
-John McMullen covers the Eagles and the NFL for 973espn.com. You can reach him at jmcmullen44@gmail.com or on Twitter @JFMcMullen