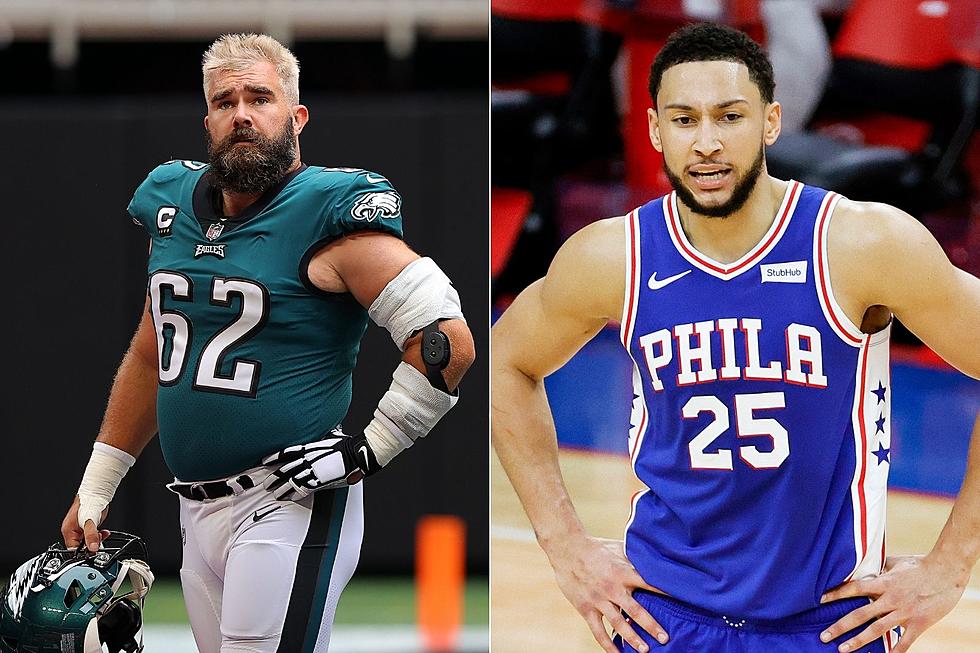 VIDEO: Jason Kelce perspective on Ben Simmons and Philly Fans
-Jason Kelce: (Photo by Kevin C. Cox/Getty Images) -Ben Simmons: (Photo by Tim Nwachukwu/Getty Images)
As the Ben Simmons saga continues, many people are inserting their perspectives and takes on the 25 year old Three-time All-Star selection.  The latest to speak out on the subject on Thursday was Eagles Three-time All-Pro Center Jason Kelce who did not mince words in his perspective on being an athlete playing in Philadelphia and the Ben Simmons situation:
Many of us already knew that Jason Kelce was a "Man of the People" because of his work ethic and play on the field each week on top of his famous speech after the Eagles won Super Bowl 52 but this only adds to his legendary status in Philadelphia!
Kelce is 100 percent right: Philadelphia sports fans want their athletes to work hard and play hard, to care as much about winning as the fans do.  The Philadelphia and Tri-State region including Delaware, South Jersey, along with Eastern Pennsylvania is full of hard working people who put so much time and energy into their jobs and families.  When fans like those who attend Phillies, Eagles, Sixers, and Flyers games spend their hard earned money to pay for parking along with tickets plus concessions and maybe even some gear from the team store, their presence and choice to spend that money on seeing their favorite team is a clear signal that they just want the athletes to care about winning and do their best every game.  Whether the city is Philadelphia or Boston or New York City or Chicago, Passionate fans are going to pour their heart and soul into their teams, so why is it too much to ask for similar passion to win from the athletes on the teams they cheer for?
Jason Kelce is more than a Super Bowl Champion and Three-time All-Pro selection, he is a future Eagles Ring of Honor inductee, he is a man who through hard work and sheer force of will earn his job as the starting Center in Philadelphia and built himself into one of the best in the NFL.  If anyone knows hard work, understands Philadelphia fans, it's Jason Kelce and more athletes than just Ben Simmons should listen to him, especially considering how Simmons own teammate Joel Embiid feels at this point!
Look Back at Past Philadelphia Eagles' Uniforms
We have your look back over the decades of Eagles' uniforms.