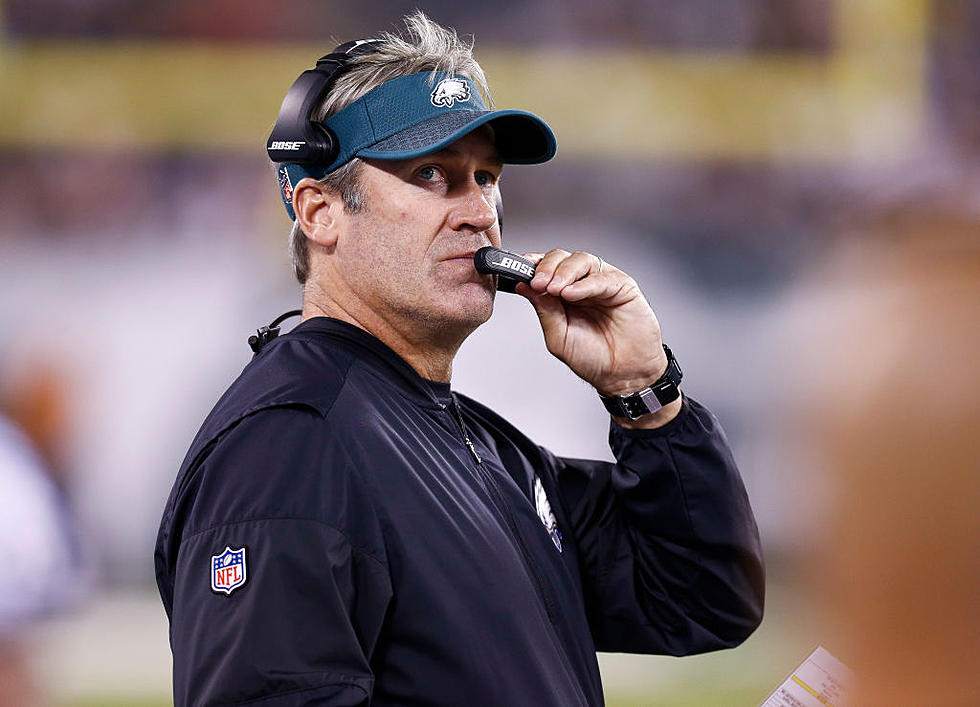 Was Jalen Hurts a Doug Pederson Pick?
Photo by Jeff Zelevansky/Getty Images
In the days after the Eagles selected Oklahoma quarterback Jalen Hurts with the 53rd pick in the NFL Draft, reation came pouring in.
What was Howie Roseman thinking?
But what if the pick was influenced by Doug Pederson?
Its a possibility according to ESPN National NFL reporter Sal Paolantonio, who said during a appearance on Sports Center with Scott Van Pelt that he texted coach Pederson and got the feeling, that Pederson had a heavy influence on making the pick.
"This is a Doug Pederson pick, there is no question about it," Paolantonio told Scott Van Pelt.
"Doug Pederson wants Jalen hurts skillset on this football team."
Paolantonio joined me on the Friday edition of The Sports Bash and confirmed those sentiments.
"This was Doug Pederson's pick," Paolantonio stressed. "He and Press Taylor want to transform this offense.  They need to be more dynamic and productive and more reliable at the quarterback position and Jalen Hurts does that form them."
"Pederson and Roseman are co-equal partners, Paolantonio continued.  "Roseman makes the final call, but he is not going to do anything that Pederson hasn't bought in to.  Roseman owes Pederson and Pederson owes Roseman for that Super Bowl trophy we saw in his office on draft night."
Paolantonio explained that he asked Pederson about already having Carson Wentz on the roster, and that the team had other needs to fill - to which Pederson texted back:
"He has a great skillset that we can use as a quarterback and as a runner," Pedersoon said via text message to Paolantonio. "He's tough competitive and a proven winner."
There is no question, Pederson sounds like someone who thinks Hurts can play now, and help the Eagles offense in 2020.  The took the talented quarterback with pick No. 53 knowing that there would be negative reaction from the fan base.
"When we made this pick, I told the guys, we're going to pick Jalen Hurts, hold on to the side of the boat, because its going to get rocky" Roseman explained to Mike Florio of PFT.
But he also thought that once the fans would change their tune when they saw what kind of player and person they were drafting.
"I thought when our fans would go back and watch highlights of this guys play, and listen to him talk, and see how successful he was in college and what kind of play-maker he is and what kind of person he adds to your culture and teammate he is, I thought there would be excitement," Roseman admitted.
In the end, both Roseman and Pederson put a tremendous value in both their quarterback and backup quarterback position.
"Backup quarterback was a very important need for this football team," Paolantonio stressed.  "Lets keep it real, we love Carson Wentz. but they have played in six playoff games in the Doug Pederson era and Wentz has nine meaningful snaps, their most important player dating back to 1933 is a backup quarterback, Nick Foles."
Rosmean talked about the number of times they have needed to turn to their backup over his time with the Eagles, guys like A.J. Feeley, Jeff Garcia, Mike Vick, and Nick Foles have all been pressed into duty and won games.  He explained how the Chiefs backup in the 2019 season went 2-1 in games Patrick Mahomes missed, and that helped them maintain home-field advantage.
"We have this value of this backup quarterback position, we want to have two of the Top 10 quarterbacks in the league, that's our goal, that's what we are trying to do," Roseman explained.
"I love going to bed at night knowing we have a strong quarterback room, that to me makes me sleep better."
Will it make the Eagles better in 2020, that's what the fans care about the most.  Hopefully we have football, and can find out.
Enter your number to get our free mobile app
Sports Bash Sports Hall of Fame