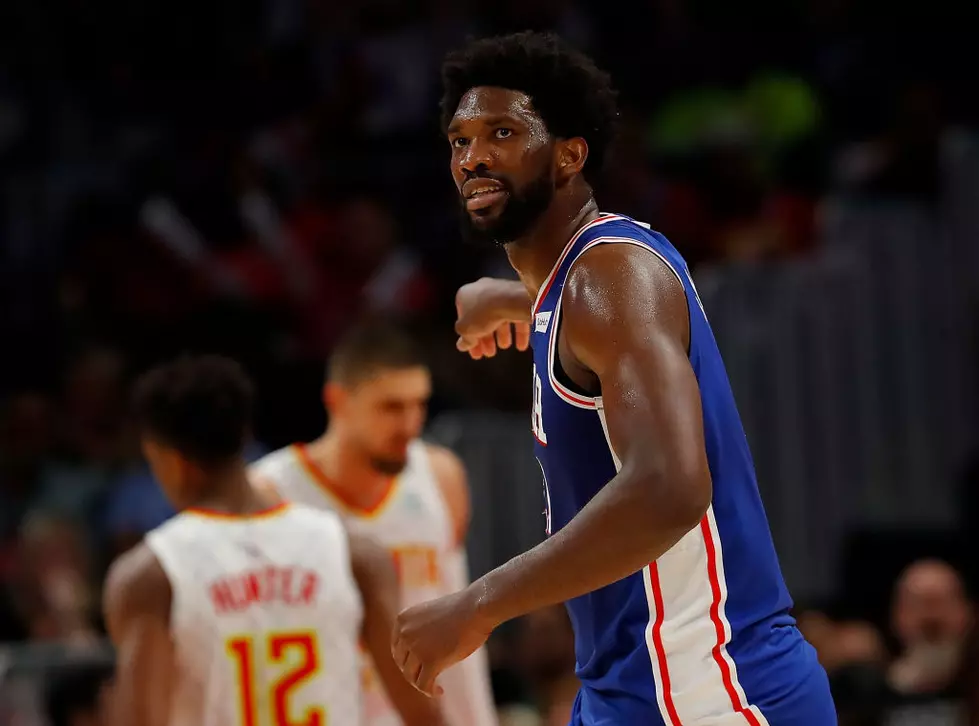 With Ben Simmons Out, Joel Embiid Helps Lead Sixers
Kevin Cox, Getty Images
The Wells Fargo Center crowd chanted MVP! for Joel Embiid on Monday night, and he might need to be if the Sixers want to make a move up the Eastern Conference standings.
The news on Ben Simmons was not very encouraging.
ESPN Adrian Wojnarowski reports the Sixers All-Star guard's back injury is not a day-to-day injury, and he is expected to miss multiple games.
Simmons re-aggravated his back injury on Saturday night in Milwaukee, leaving the team, the doctors and his agent to decide which path is best for the 23-year old guard.
In the meantime, the Sixers will have to move forward with more minutes for guys like Shake Milton, Raul Neto, Alec Burks, which isn't an ideal situation acknowledged head coach Brett Brown before the Sixers hosted the Hawks on Monday night.
"I'm not spinning it," Brown admitted. "Its an opportunity for us to learn and something will emerge and we need something to emerge. I think we are going to learn something."
In his place on Monday, the Sixers went with Milton in the starting lineup, Milton delivered seven points on 3-of-7 shooting with six assists, five rebounds, one steal, one block and in 26 minutes.
"A guy like Shake [Milton] comes in and plays well and was very solid for us tonight," said Tobias Harris, who had 25 points with six rebounds, four assists, one steal, one block and four triples in 35 minutes. "He's been solid every time he's gotten an opportunity."
His last opportunity was in Milwaukee when Simmons was forced to leave the game, Milton stepped in with 17 points, two assists and career-high-tying five 3-pointers in 22 minutes.
As well as Milton played, it was Embiid who carried the team, with a career-high 49 points (17-of-24 FGs, 14-of-15 FTs), adding 14 rebounds, three assists, three steals, one block in 36 minutes.
"He was dominant making his free throws. He was dominant as an interior presence," Brown explained. "Scoring that volume of points at that efficient of a rate is impressive."
When Simmons out, the Sixers are going to need even more from Embiid, and he has put up much better offensive numbers without Ben Simmons on the court this season.
"He could do that every single night out there if he wanted to," said Harris.
According to Second Spectrum, Embiid is scoring 31.3 points per game without Simmons in the lineup, compared to just 23 points per game with Simmons.
"With the news of Ben and him not being there, he's gotta play like he did tonight, for the most part," Brown explained. "His mentality is what most impressed me. The bottom line is this: when he comes out with that activity, that energy, that mentality, he makes a statistician work and we will win a lot of games."
"Most important thing is that we bounced back and we got the win," Embiid added.
If he continues to bring this mindset to the floor, the Sixers will continue to win games, but it has to be more consistent.