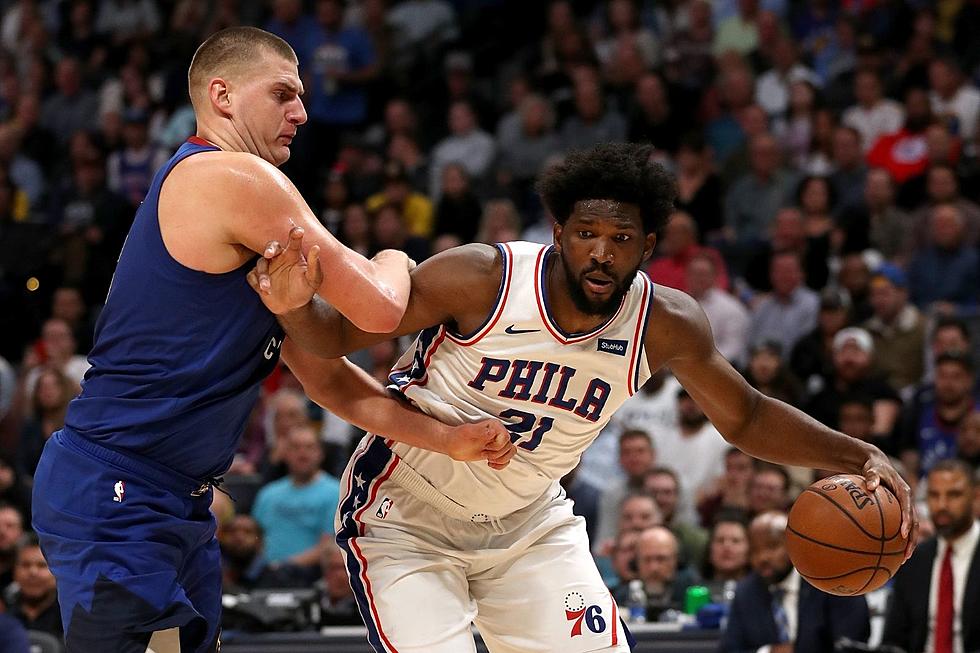 You Should Take Joel Embiid's Candidacy For MVP More Seriously
(Photo by Matthew Stockman/Getty Images)
The 2020-21 NBA season is down to the final few weeks of the Regular Season and each year there is debate about the NBA's MVP award candidates but this season the conversation is as subjective as ever. Most people agree the top candidates are the Denver Nuggets' Nikola Jokic and Philadelphia Sixers' Joel Embiid; While a few other names have been thrown out there as potential candidates (Giannis Antetokounmpo, Chris Paul, Kawhi Leonard, James Harden, etc.) the leading candidates are still the big men at this point in time.
ESPN released their latest NBA MVP straw poll of potential MVP voters and the overwhelming number of First Place votes went to Nikola Jokic with Joel Embiid is a distant second place. The perception is that since Jokic is the one player who has not missed a significant number of games this season, that's the biggest reason why he appears to be a leading candidate for the award. To me, that way of thinking is another way to cheapen the NBA's most coveted award; So Jokic is a "survivor" of a Regular season which has been impacted by COVID-19 restrictions plus unavoidable injuries. That doesn't make Jokic the league MVP, it just means he is fortunate or lucky.
Forbes Sports NBA Writer and Co-Host of the NBA Podcast Bryan Toporek joined GameNight with Josh Hennig and explained one of the problems with NBA MVP voting comes down to there being no prerequisites or baseline qualifiers for voting for this coveted award:
"This is one of those years with (NBA) MVP where there isn't a clear cut favorite, you can make arguments for a bunch of different guys....There isn't clear criteria for any of these (NBA) awards, what is Most Valuable Player: Is it the guy who if you remove him from the team, that team go from 55 wins to 20 wins? Is it the guy who is having the best statistical season? - One of the arguments in Embiid's favor right now is the Sixers are the number one team in the Eastern Conference, is (MVP) the guy who contributes to winning the most?"
So if the criteria is not clear cut then that opens the door for criticism of these voters overwhelming voting for one player when perception is that they are handing that player an award just because that guy did miss games. Yes, Joel Embiid has missed 18 games this season but almost half of those game missed was because of COVID-19 protocols. So in a year in which Basketball is being played under the ominous clouds of the reality that any day players could miss games because of these protocols?
Yes, Jokic is having an incredible season and I would not be mad per say if he was awarded the league's MVP trophy, but it's ridiculous to hold against Embiid missing games when almost no one, except for Jokic, has played every game this season. Joel Embiid is averaging more Points Per Game (29.9) and almost the same number of Rebounds per Game (11.1) as Jokic this season; On the flip side, Nikola is shooting better from 3-Point Range (41.9%) and has more Assists per game (8.8) than Joel. While Jokic leads the NBA in Player Efficiency Rating, Embiid is number two in the league in that category. Embiid is fourth in the NBA in Defensive Rating and seventh in Total Rebounding Percentage yet Jokic is not top ten in either of those analytics metrics.
Bryan Toporek explains that Joel Embiid still has the opportunity to overtake Nikola Jokic is the MVP race thanks to the Sixers upcoming schedule:
"Embiid has a chance to overtake (Nikola) Jokic still, it feels like based on some of the conversation from national (NBA) writers especially (ESPN's) Brian Windhorst the other day, feels like some of the people who will be voting on (NBA MVP) recognize that Jokic should be the favorite but they are not super excited to vote for him. So I think with Embiid in particular, the Sixers have a nationally televised game (Monday Night) against the Warriors, they have three coming up this week against the Suns (Wednesday Night) then the Bucks Thursday and Saturday. Obviously would have been nice if (the Sixers) got the win but still Embiid put up massive numbers despite the loss and you can write that off to Ben (Simmons) and Tobias (Harris) both missed that game so it was tough sledding there regardless. If (Simmons and Harris) come back and go win these next three games against a very, very good Suns team and a Bucks team that is one of the best teams in the (Eastern Conference), all of a sudden that is going to give a litle bit of narrative heft to Embiid heading into this stretch run....This MVP race could look a lot different in two weeks depending on how the Sixers handle themselves over this (upcoming) tough stretch."
The reality is that many times these awards like MVP are not purely objective in how the voters approach the process. In College Football, we see almost every year that the Heisman Trophy is typically awarded to the player with the strongest finish to the Regular Season and many times is not always awarded to the player with the best overall season. Voters have recentcy bias many times in College Football and we may see a similar swing in Joel Embiid's favor with the NBA MVP Award this year.
I am a believer in the importance of the word "Valuable" in the title of Most Valuable Player Award handed out each season. I don't think many people understand that Joel Embiid has assended to one of the best players in the NBA today, one of those rare talents that you can place on any team in the league and elevate that organization to contender status. At 27 years old, Joel Embiid is entering the prime of his career as he is on pace to becoming the first Center in the NBA to average at least 30 Points Per Game since another former 76ers Big Man won an MVP Award: Moses Malone in the 1981-82 season was second in the NBA with 31.1 PPG, won the most coveted award in the league and that was the season before joining the 76ers to lead them to the NBA Championship.
Some more NBA history concerning big men has to do with how Joel Embiid's current season compares to another Center who missed game with injuries and still won the NBA MVP Award: Bill Walton only played 58 games in the 1977-78 season, which is just 70.7% of the games but his team still finished number one in their division that season. Currently, Joel Embiid has played 68.4 percent of the 76ers games this season (39 out of 57) and in order for Embiid to get up to 70% that Walton played, Embiid has to play 12 of the team's final 15 games this year. That is definitely something Embiid can accomplish this year.
So whether Joel Embiid wins NBA MVP or not, it's time for everyone to take his candidacy more seriously and spend less time trying to belittle him for missing games. He is one of the top ten players in the league today and has just entered the prime of his career. Nikola Jokic may be currently the heavy frontrunner for the award, don't let the subjective opinion of 101 voters dictate how you look at the phenomenal play of arguable the best big man in the NBA today: yes, I would take Embiid over Jokic every day of the week.
Checkout the full conversation with Bryan Toporek from GameNight with Josh Hennig as they talked NBA MVP Award, Sixers standing compared to the top teams in the Eastern Conference, and more
Sixers Head Coaches With Most Wins In Franchise History
KEEP READING: South Jersey's Biggest Driving Pet Peeves