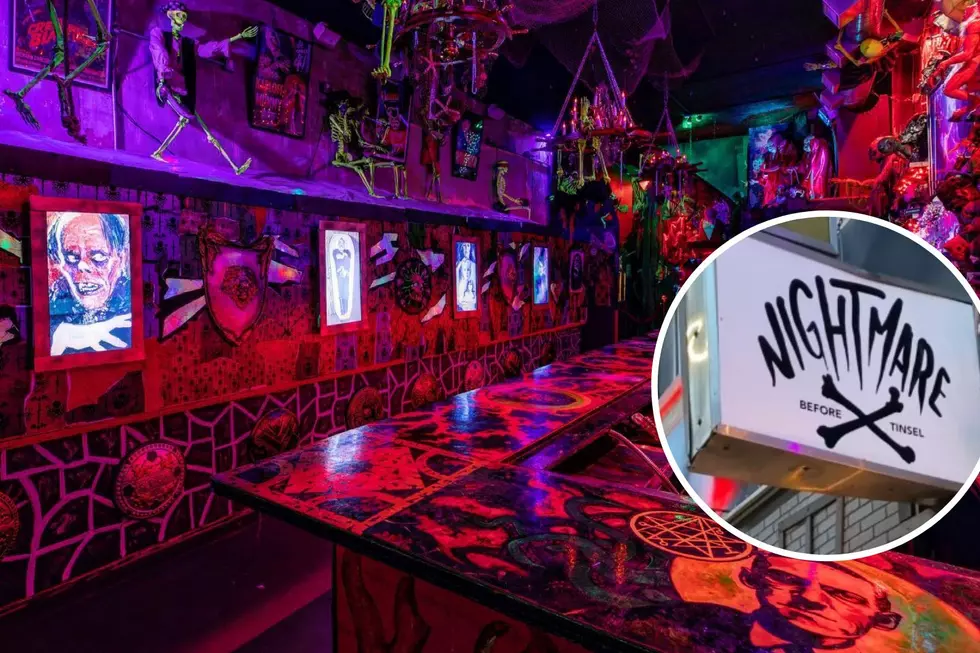 The Scary Philadelphia, PA Halloween Bar You Can't Miss This Spooky Season
Tinsel/Facebook; (inset) tinsel/Instagram
For those of you that like to combine apparitional spirits with the drinkable kind, you'll want to plan a trip to a scary Halloween-themed Bar in Philadelphia.
If you're brave enough to sip cocktails in the devil's living room, set your GPS for Nightmare Before Tinsel, located at 116 S. 12th Street in midtown Philly.
This 'spooky season' attraction officially opens Thursday, September 15th at 4 p.m.
Does the bar/attraction's website claim the destination features "a flaming hot bloody cave dripping with human remains?" Sure. But if this is your season and you're a Halloween junkie, you'll probably be down for whatever spooky fun Nightmare Before Tinsel dishes out.
There's a freaking room full of nothing but baby doll heads! There are even a bunch of dolls hanging from the ceiling! Wanna sit in a mock electric chair while catching up with friends? You can do that, too. How about a flaming, bloody cave dripping with human remains? That haunting scene awaits you, too.
 

 

 

View this post on Instagram

 
For spirits worth sipping on, you can play it tame with the Candy Corn cocktail for $12, or indulge in something more haunting, like the Blood Bag for $16.
View this post on Instagram
A post shared by Frankie Panebianco (@frankiep014)
And, YES, this is the same Tinsel in Philly that becomes a winter wonderland during the Christmas season. Get it? It's the nightmare BEFORE Tinsel! Enjoy!
If you know of other Halloween-themed bars like Nightmare Before Tinsel, tip us off in the comment box below!
The 8 New Dining Experiences Coming to Tropicana Atlantic City
Tropicana in Atlantic City already has some amazing restaurants and bars, but it's about to up its game by introducing eight new dining options!
10 Best Pumpkin Patches in New Jersey, Chosen By You
Here Are 6 Popular Hayrides to Check Out In South Jersey This Fall
Grab your friends, family, fall jacket and hop in! w=We're going hayriding in South Jersey!