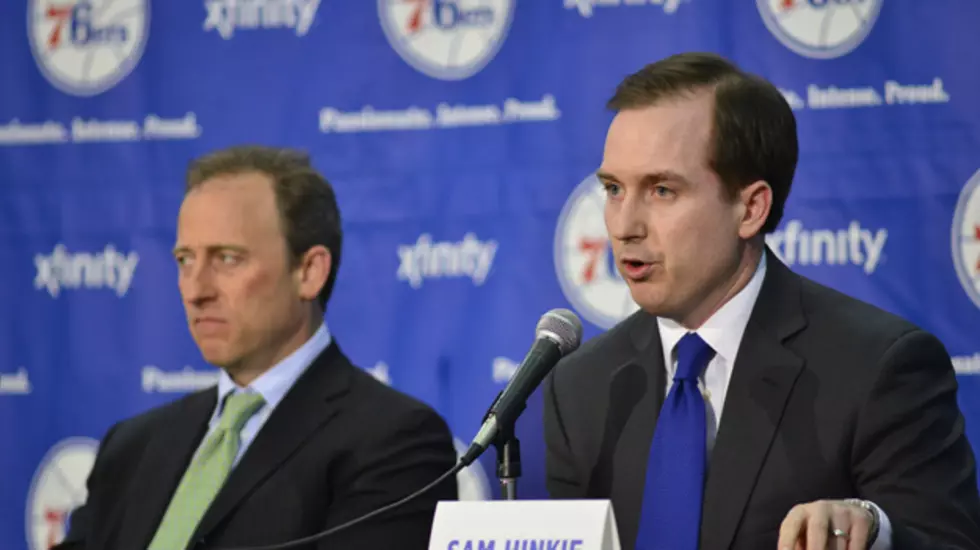 Did Sam Hinkie Have Blind Spots As Sixers GM?
President of Basketball Operations and General Manager Sam Hinkie with ower Josh Harris. (NBAE/Getty Images)
Friday's Sixers Post Draft Press Conference started off on an interesting note when General Manager Bryan Colangelo took time to give former GM Sam Hinkie credit for the 76ers being in position to draft Ben Simmons:
"When I came in I had a lot of things in front of us to do, first and foremost a lot of the resources and tools were put in place by my predecessor. I think that the way that this has played out has played out uniquely special, we were in a position to draft with multiple positions in this draft and add significant talent to the roster"
While Colangelo didn't dwell on the point or even say Hinkie's name, he acknowledged what Sam did in gathering assets put the Sixers in the position to allow Colangelo to have a shot to win the Draft Lottery, then Draft Ben Simmons, and continue to rebuild the 76ers on an upward trajectory.
Philadelphia Daily News Columnist Marcus Hayes joined Josh Hennig on Saturday and discussed what aspect of Hinkie's "The Process" was incomplete and led the Sixers to a 10-72 season:
"You have to have a Point Guard to run a team especially a team of young kids. They should've gotten a guy like Andre Miller, they should've gone after hard a guy like Jameer Nelson; even if you have to pay him twice what they're worth, you are investing in your young players who are essentially free, these are 4-5 Million dollars a year players. So that was one of Sam Hinkie's blind spots and one of the reasons why he was a poor General Manager overall. He was a great deal maker and he understands the numbers of the league and no matter where he lands he's going to be a huge help to whatever team he's with. That team I think will be successful and in large part because of him but he is not the kind of person you want running your team because very basic chemistry and role responsibilities he was just blind to, ignorant of and dismissive."
Checkout why Hayes says Sam Hinkie should've been more like Joe Banner along with the positives of Ben Simmons emulating LeBron James, what the Sixers need to do this coming offseason, and where LeBron James stands among the greats of NBA History