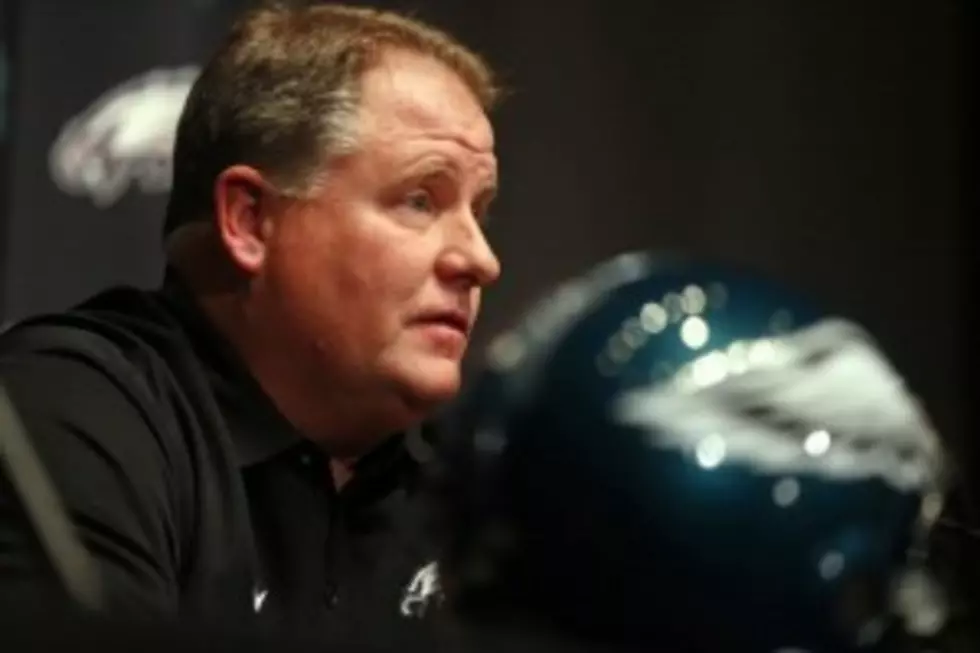 Eagles Notes: Checking on the Injuries Entering the Bye Week
Eagles coach Chip Kelly conceded Michael Vick "probably" could have played in Week 11 against Washington. (Getty)
The Eagles are taking a NFC east best record of 6-5 into their bye, they will be assured of at least a share of first place when they return to the field on Sunday Dec. 1, against the Cardinals.
But as many players headed on vacation for their week off, don't go thinking the Eagles believe they've arrived at their final destination.
"Yeah, we have a lot of work to do," Eagles head coach Chip Kelly said.  "We're here through Wednesday, and then they've got Thursday and Friday off and Saturday and Sunday.  I'd imagine some guys will be around Thursday and Friday, but we're done formally meeting on Wednesday."
Philadelphia's players will have most of this week off and will return to work next Monday beginning their typical game week on Tuesday to prepare for the Sunday game against Arizona.
But there we go getting ahead of ourselves. Monday was a chance to take stock of where Philadelphia is in this season and on its roster, and in both respects the answer is better than anyone had a right to hope for.
Philadelphia has won three in a row and five of their last seven, despite have to learn entirely new defensive and offensive schemes. Throw in the fact that receiver Mike Vick started the season, got hurt and now the team has turned to second year man Nick Foles and it seems remarkable that Philadelphia was able to claim sole possession of first place this late in the season in which it has lost four-of five games playing at home.
Then there's the matter of the roster. Since the regular season, the Eagles have placed only two players who would have played a significant role from the active roster onto injured reserve: receivers Jeremy Maclin and Arrelious Benn.
And of the 53 players on the roster, only four are currently injured. Rookie safety Earl Wolff with a knee injury, cornerback Bradley Fletcher has a pectoral injury and linebacker Mychal Kendricks is dealing with a knee injury on the defensive-side of the ball.  Over on offense, only quarterback Mike Vick missed the Redskins game - but coach Kelly said Vick is getting closer to returning.
"I think Mike could have played if we needed him on Sunday.  But we weren't going to keep three quarterbacks active," Kelly said. "We're hoping when we come back off the bye with this week off when we get back to next week, that Mike will be up and ready to go.  We'll see.  I know he's progressing."
The fact that's the extent of the injuries Philadelphia is facing is nothing short of remarkable. In fact, Kelly was asked if the sports science that he brought to the team played a factor in the overall health of the team.
"I'm not surprised," Kelly admitted.  "I mean, that's part of the plan.  It's a well thought out research plan.  It's not just, hey, let's try this.  So it's a two‑way street in terms of they have to buy into it and they have done an unbelievable job buying into it because we're not with them 24/7, nor should we be with them 24/7.  We've got a bunch of guys that want to be great at what they do.  They understand not only what they do here during the day, but what they're not doing here during the day has a great effect on you being able to respond on Sundays.  And they've bought into that, and I think that's a credit to those guys."
McCoy OK after Locker room visit
LeSean McCoy said the hamstring injury he played through Sunday may have been a cramp.
"It just grabbed really tight," McCoy said. "I was cutting and running, and it kind of just gave out. But I went back there and did some stretching and different treatment and I was back."
That's a good thing. It means he shouldn't miss anytime with a dreadful hamstring injury, similar to what Vick has gone though this season.
"It felt good. I was making the same cuts and I felt good running."
• McCoy became the fourth Eagle with three 1,000-yard seasons, joining Duce Staley, Ricky Watters and Wilbert Montgomery
• The Eagles surpassed 400 yards of total offense for the ninth time this season, setting a franchise record.
• LB Najee Goode picked up his first-career sack in his first-career start .