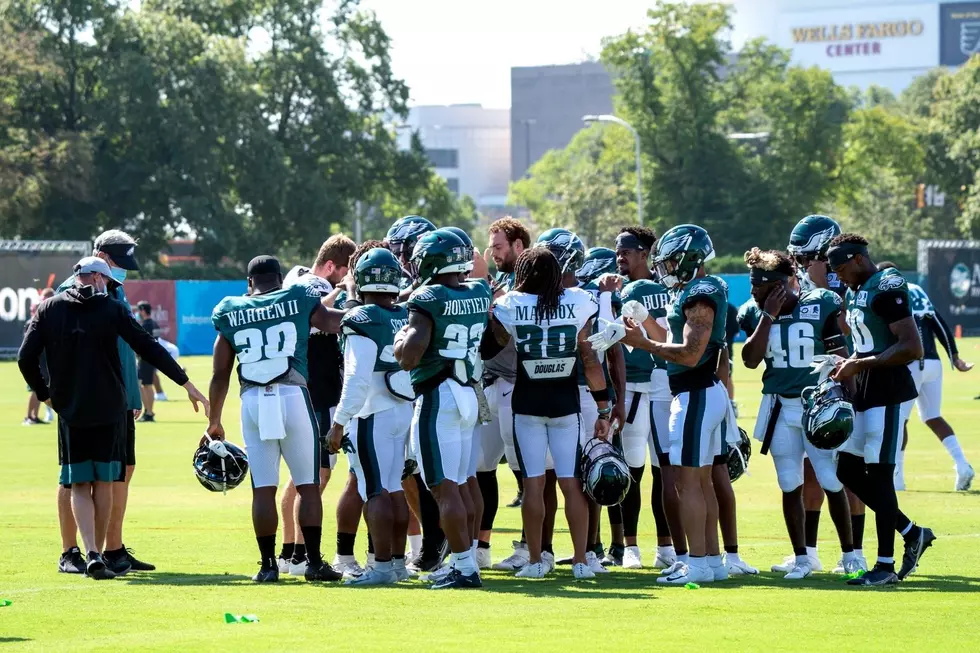 Grayson's Grades: Eagles 53-Man Roster
(Photo by Chris Szagola-Pool/Getty Images)
PHILADELPHIA - The Philadelphia Eagles will open their season in less than a week. In some ways this season is like every other one. For example, they suffered preseason injuries like they have before. However, this is also a season unlike any other due to Covid-19 sending all 32 teams into the season without seeing any preseason games of their opponents or having played in any games themselves.
As far as injuries go, the Eagles spent the second half of the preseason trying to re-work their Offensive Line. Projected starting left tackle Andre Dillard suffered a season ending biceps injury causing a big shakeup. Ultimately, protected starting Right Guard Jason Peters decided to move back to Left Tackle where he has played his entire career.
Enter your number to get our free mobile app
Injuries also affected skill players as Rookie Wide Receiver and first round pick Jalen Reager will miss at least the opener after suffering a small tear in his left shoulder.
The defense is largely injury free and looks to be improved after multiple offseason changes to the defensive personnel.
Here is Grayson's Grades on the 53-man roster one week from kickoff:
Carson Wentz once again leads this position group and remains the franchise Quarterback for the birds. He made something out of next to nothing last season when his receivers lacked speed and were frequently injured. The Eagles acquired more speed through the draft and free agency this offseason, which should help Wentz. He continues to be labeled injury-prone despite playing in all 16 regular season games last year. For now, Nate Sudfeld is the backup with rookie Jalen Hurts behind him on the depth chart.
Miles Sanders will look to build on his successful rookie season where he rushed for more than 800 yards and added more than 500 yards receiving. Sanders is day-to-day right now with a lower body injury. Boston Scott, Corey Clement and Jason Huntley round out that position group.
Health or the lack thereof at this position leads to the grade above. This group could quickly grow into a B or even threaten an A grade as they get healthy. Alshon Jeffery was placed on the 53-man roster and kept off the PUP list meaning the Eagles expect him to be able to play in one of the first six games. However, he has not practiced and is not expected to be available in the opener. DeSean Jackson opened the season with a big game last year, but got hurt and missed most of the season after that. Beyond those two players, experience is limited at that position. Greg Ward and J.J. Arcega-Whiteside are both second-year players. Rookie Jalen Reagor is expected to miss at least the opener. Rookies Quez Watkins and John Hightower will try to make their mark on the receiving corps. Overall, this group lacks very much experience or chemistry with Wentz. However, they have more speed than the receiving group did a year ago and that should help to stretch the field more.
Tight End is one of the best positions on this team. Zach Ertz remains atop the depth chart and continues to add to his potential Hall of Fame stats. Ertz caught 88 passes for 916 yards and six touchdowns. Dallas Goedert is behind him on the depth chart and will continue to play a role in the offense. He caught 58 passes for 607 yards and five touchdowns in 2019. With more speed in the receiver group it is expected the middle of the field could be even more open than it was in the past setting up some potential big games for Ertz and Goedert.
The offensive line as described above is clearly in a state of flux. One week prior to the start of the season is definitely not the time to be making wholesale changes to your starting line. Jason Peters has the experience at Left Tackle, but his health has been the biggest uncertainty this late in his career. Lane Johnson has missed practices late in the preseason due to an upper-body injury but appears to be on track to play in the opener. Jason Kelce anchors the line and returns as the Center. Isaac Seumalo will be back at Left Guard. Without Brandon Brooks who will miss the season due to injury, the Eagles will go into the season with Matt Pryor at Right Guard. Brooks was playing at a very high level and will be missed. This group minus Pryor has plenty of experience to warrant higher than a C grade; however, they have barely practiced as a unit due to injuries and late changes to the line.
The linebacking group lacks experience and that creates an unknown as far as expectations and is the biggest reason for that grade. Nate Gerry will start. He did a nice job with his snaps last year and started 12 games in 2019. Now he will be counted on for more production. He will be joined by Duke Riley whose best season was in 2018 when he racked up 60 tackles with the Falcons. Alex Singleton will also start. He is in his second season and has five tackles in his career. The big question will be, can they gel as a group and be on the same page quickly?
The Eagles made a big pickup when they traded for Darius Slay and signed him to a contract extension. He has the ability to play on an island, which is what Jim Schwartz always wants. Slay has a reputation as being one of the best defensive backs in the league when he is healthy. Opposite him will be Avonte Maddox. Maddox has shown moments of greatness and also moments of mishaps. He is now in his third year and expected to take some solid steps forward this season. They do have some depth there with Nickell Robey-Coleman and Cre'von LeBlanc below them on the depth chart.
The Eagles lost one of their rocks on defense when Malcolm Jenkins left for the New Orleans Saints. Rodney McLeod is back as a starting safety. He will be joined by Jalen Mills who makes the move to safety from corner. All the talk throughout the preseason has been that Mills looks pretty good there. He had his struggles in coverage when he was a corner. Now as a safety and having the ability to watch and help where needed, it appears he could be more of a positive influence. Rookie K'von Wallace has looked pretty good in camp and is waiting his turn on the depth chart. This group has the potential to rise to an 'A' level fast depending on how quickly they can operate on the same page.