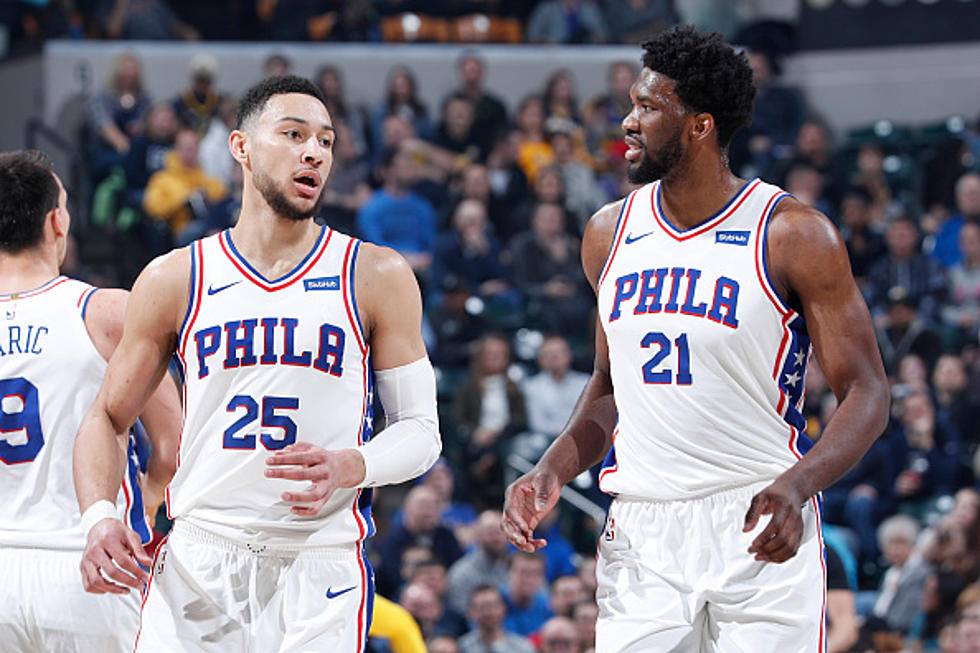 Sixers' Duo Simmons and Embiid in Top 20 of ESPN's NBARank
(Photo by Joe Robbins/Getty Images)
It's where they both fell that is somewhat disappointing.
Simmons enters this season ranked 16th, after entering last season at No. 15.
Enter your number to get our free mobile app
He's not the top-ranked Sixers player, or the one with the biggest drop in the rankings.
That honor belongs to center Joel Embiid, who dropped from eighth to 14th heading into this season.
Embiid averages dropped to 23 points and 11.6 rebounds per game in his fourth season with the Sixers after averaging 27.5 points and 13.6 rebounds the previous season.
While Embiid is ranked in the Top 15, there is some cause for some concern writes ESPN's Kirk Goldsberry.
Philly's dominant big man gets a fresh start in Philly with Doc Rivers, but still this is a make-or-break campaign for the Embiid-Simmons combo. And from Embiid's perspective, the causes for concern are clear: health and compatibility. He needs to both stay healthy and prove once and for all that he can mesh with Simmons on offense, or else one of them might be gone soon.
Simmons is looking to build on his up-and-down 2019-20 season, where he averaged 16.4 points, 8.0 assists and 7.8 assists per game. A fresh start and a new coaching staff, should only help re-gain his status as a top-15 player.
Seventh-year guard Seth Curry was unranked last year, made the list at No. 91 after he averaged 12.4 points and hitting on 45.2% from 3-point range for Dallas. Pairing him with Embid and Simmons could move him further up this list next season.
Curry should slot into the starting shooting guard spot for Philadelphia, playing next to Danny Green and Ben Simmons on the wings. But as the clear weak link in that starting five defensively, will Curry be able to hang tough enough at that end to stay on the court for long stretches? The Sixers need him out there to keep the floor spaced for Simmons, Tobias Harris and Joel Embiid.
Tobias Harris comes in ranked 57th, a big drop after coming in at No. 28 the previous season.  Harris averaged 19.6 points per game, hitting 36.7% of his three's last season.
The change back to the power forward spot and reuniting with Doc Rivers could help him vault back into the Top 30.
Philadelphia re-signed Harris in 2019 to be its third star. Harris is now back at his best position (power forward), with the coach who got his best play out of him when he was with the Clippers, and on a team where he should have plenty of room to operate. Can Harris take advantage and be the player the Sixers need him to be?
Sixers First-Round Picks Since 2000