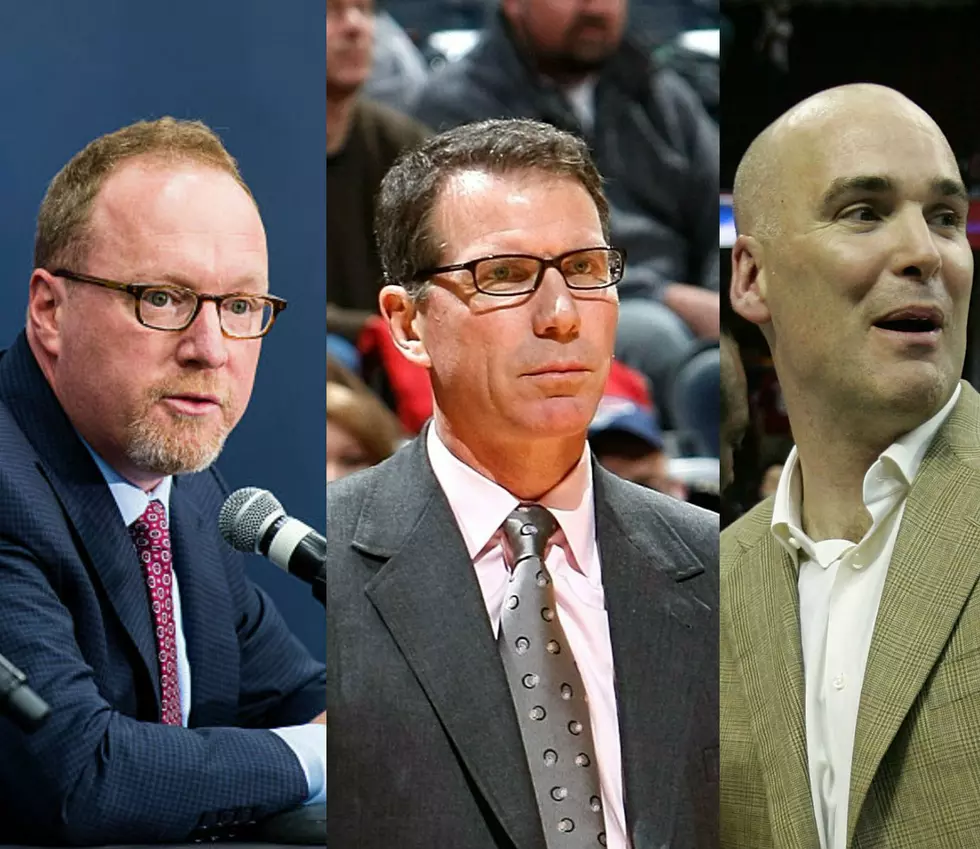 Who Could Be The 76ers Next General Manager?
Photos by Jason Miller/Getty Images; Kevin C. Cox/Getty Images; Jonathan Daniel/Getty Images
As the Sixers conduct their search for their next General Manager in the aftermath of Bryan Colangelo's resignation last week, there are reports that the initial top three candidates for the opening in the Sixers Front Office are David Griffin, Mike Zarren, and Kiki VanDeWeghe.  Griffin has worked in NBA Front Offices for over two decades, first starting his career with the Phoenix Suns, working under Bryan Colangelo and later Steve Kerr.  Griffen was hired to be the Cavaliers Vice President of Basketball Operations in 2010 and served as Cavs' General Manager from 2014-2017.  Mike Zarren has worked in the Celtics organization for over 14 years, rising up the Front Office ranks to become Boston's Assistant General Manager and Team Counsel.  Zarren serves as the Celtics' Salary Cap Expert along with lead in-house counsel for both their basketball and business issues.  After playing in the NBA for 13 years, Kiki VanDeWeghe worked in the Mavericks and Nets Front Offices along with serving as Nuggets General Manager from 2001-2006.  Kiki is currently the NBA's Executive Vice President of Basketball Operations, a position he has held since 2013.
ESPN.com NBA Insider Kevin Pelton joined The Sports Bash on Tuesday with his perspective on potential candidates for the Sixers General Manager opening:
"Mike Zarren was a candidate a few years ago before they hired Sam Hinkie, I think they were very interested in bringing him to Philadelphia as GM before he withdrew from that search. He's someone who grew up a Celtics fan and in Boston, so it's going to be difficult for him to leave the Celtics for anyone. But this is a really attractive GM position so maybe it's the kind of situation that would cause him to leave. Danny (Ferry) is a very similar situation in terms of being someone they interviewed when they hired (Bryan) Colangelo a couple years ago. In this case I think the controversy that would come with his comments about Luol Deng, or the scouting reports that contained culturally sensitive stereotypes, I think that's probably the kind of issue you want to avoid now if you are the sixers front office. So maybe he is not as interesting of a candidate now as he was then. Then Brandon Williams, who was in Philadelphia under Colangelo and Hinkie and then went on to Sacramento last year and has taken on a larger role in the King's front office. That's kind of perhaps his stepping stone, I think for him to eventually become a GM. So if you want somebody who brings continuity the two recent eras in Philadelphia basketball, Williams is somebody who can do that."
Checkout what Pelton had to say about what the Sixers' options are with the Tenth Overall pick in this year's NBA Draft along with his perspective on the 76ers offseason and his expectations for LeBron James future