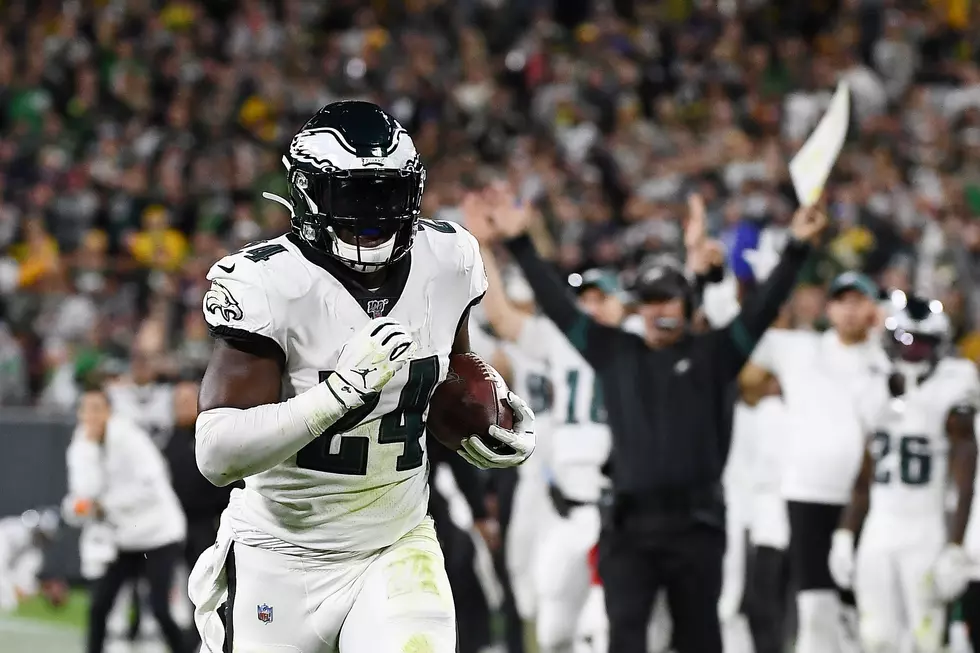 Grayson's Grades: Eagles at Packers
Getty Images
The Philadelphia Eagles got into a shootout with the Green Bay Packers and narrowly escaped Lambeau Field with a 34-27 win. The Eagles defense secured the win when Nigel Bradham picked off Aaron Rodgers in the endzone with less than a minute to go in the game.
This was a back-and-forth game that once again saw the Eagles with a slow start. They poured it on later scoring touchdowns on essentially four straight drives.
The Eagles finished September at 2-2 and have a little time to heal those bumps and bruises as they will not play the NY Jets for 10 days.
There are more injury issues, especially at corner with Sidney Jones leaving the game early due to a hamstring injury and Avonte Maddox getting knocked out and leaving the game on a stretcher.
Here is the latest edition of Grayson's Grades: (Check out the grades below)
Jordan Howard - Howard got more touches in this game and played a bigger role. In fact, he scored a trio of big touchdowns for the Eagles. Howard was a force on the ground and the Eagles used him through the air as well. Howard led the team in rushing and finished third on the team in receiving. He carried the ball 15 times for 87 yards and two touchdowns. Howard also added three receptions for 28 yards and another score. It was quite a game for Howard and he benefitted from some great blocks by the offensive line.
Offensive Line - The line has been criticized in recent weeks, but for the most part dominated the line of scrimmage in this game. They helped a balanced ground-pass attack that moved the ball against a defense that had played well through the first three weeks of the season. The Eagles rushed the ball for 176 yards and passed for 160 yards. Jason Peters, Brandon Brooks, Jason Kelce, Isaac Seumalo and Lane Johnson all had a solid game. They did a good job of opening holes and protecting Wentz.
Miles Sanders - Sanders gave this team a big spark when it needed it in the second quarter. After falling behind 10-0, Sanders returned a kickoff 67 yards setting up an Eagles touchdown later that drive. Sanders also appeared to turn a corner in his reads while running the ball. He made quicker decisions and hit holes faster turning more North-South and moving the pile forward better. Sanders carried the ball eleven times for 72 yards. He also had that 67 yard kickoff return.
Carson Wentz - Wentz has to find a way to calm himself down at the beginning of games. He has a bad habit of coming out a little too fired up and overthrowing receivers on the opening drive. It is part of the reason the Eagles have not scored many points in the opening quarter recently. However, despite the inaccuracy early he went on to have a very good game. Wentz tossed three touchdowns in the victory and did a great job of taking what the defense gave him. That included running the ball well which limited some of his passing stats. Wentz completed 16 of 27 passes for 160 yards and three touchdowns.
Derek Barnett - Barnett had a huge play for the defense when he was able to slap the ball out of Aaron Rodgers' hand recording a huge sack-fumble that Brandon Graham recovered. The Eagles got the ball inside the Green Bay 20 and eventually turned it into a touchdown. However, he was flagged for a personal foul on a late hit that went helmet to helmet on the opening drive. It helped lead to a touchdown. It was an unnecessary hit that sent Jamaal Williams off the field on a stretcher. Barnett recorded four tackles, one sack and a pair of quarterback hits.
Alshon Jeffery - Jeffery had a productive return. The Eagles and especially Carson Wentz missed him. Jeffery was targeted in the red zone and found in the end zone for the Eagles first touchdown of the night. He had several more opportunities but he and Wentz were unable to connect due to either good defense or a slightly misfired pass by Wentz. Jeffery caught three passes for 38 yards and a touchdown.
Doug Pederson - Like it or not, Pederson takes some chances and makes some unconventional decisions. Some Eagles fans may not like that, but I do. I like the decision to go for two when you are up by seven. Nothing really lost by failing, but a lot to gain going to a two-possession lead by getting it. I do tend to disagree with about half of Pederson's decisions to challenge. He challenged a pass interference that was not called and lost that challenge in the second half. It might not have been a bad challenge except for the fact that Green Bay challenged a similar play earlier in the game that looked worse and did not win that challenge either. Pederson faced a tall task of getting his team to forget about a tough loss to the Lions four days earlier and go into Lambeau Field and beat a previously undefeated Packers squad. He did a good job of utilizing the run game to help the passing game. Finishing the first month of the season at 2-2 is huge versus the alternative of sitting at 1-3 through four games.
Zach Brown - Brown had too many of those yellow things hit the ground on his account. He was flagged for a face mask that helped the Packers get breathing room on their second drive of the game. He was also called for a stupid personal foul penalty in the fourth quarter to help the Packers move the ball down the field. However, he also made some nice tackles in the game. He must eliminate the bad penalties because giving an offense free yards can become very costly to his team. Brown finished with five tackles in the win.
Avonte Maddox - Maddox definitely had a rough game and was a frequent target by Aaron Rodgers. He was so afraid to get beat deep against Devonte Adams that he got beat underneath and then juked out of his cleats for a big gain. He was called for pass interference in the end zone in the fourth quarter. Maddox did adjust and stopped trying to face the ball and defend it that he just focused on running with Adams and hoping that would make it more difficult for him to catch the ball. Despite the criticism, Maddox took a brutal injury late in the game when his own teammate hit him helmet-to-helmet. Maddox was down for several minutes before he was taken off on a stretcher. His entire team was on the field showing their support. Two plays later, Nigel Bradham picked off a pass and sealed the victory. He finished tied for second on the team with eight tackles. He also had one pass successfully defended.
Jim Schwartz - Schwartz faces the tough task of trying to slow down opposing offenses without having his defense at full strength. His secondary is particularly weak and his front four is not entirely healthy either. Schwartz is without Jalen Mills and Ronald Darby. He lost Sidney Jones and Avonte Maddox during this game. He is blitzing a little more than usual and trying to create pressure on the opposing quarterback one way or another. Schwartz cannot control the injuries, but he can control and try to eliminate the stupid penalties by his players. There were several unnecessary defensive penalties that helped the Packers move the ball.