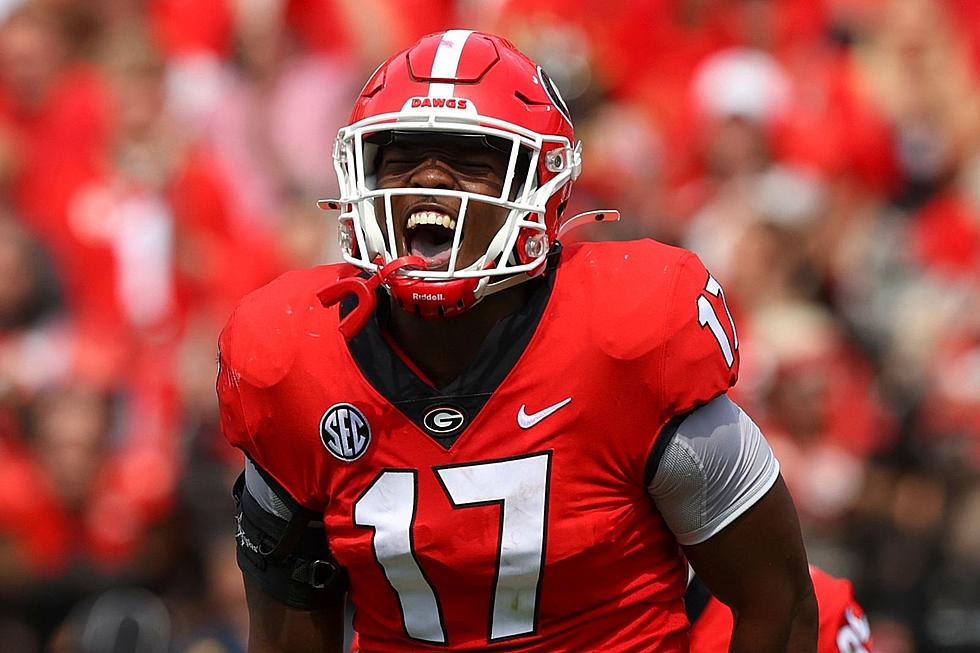 Nakobe Dean Headlines Philadelphia Eagles Players to Watch vs. Jets
(Photo by Todd Kirkland/Getty Images)
If you're planning on watching Philadelphia quarterback Jalen Hurts lead the Eagles offesne against the New York Jets on Friday, you better get to the TV fast.
The third-year signal caller and the rest of the starters will only play about a series or two, according to Eagles head coach Nick Sirianni.
"We're thinking one to two series with the starters," Sirianni stated on Wednesday.
So who will play against the Jets?
Just because we won't see many of the first-team, doesn't mean there aren't reasons to watch the team's first preseason game.
A look at what to watch during Friday's preseason action:
WR: Jalen Reagor and Britain Covey
With A.J. Brown, DeVonta Smith, Quez Watkins, and Zach Pascal locks to make the team, the next group of guys will be battling for a roster spot.
Leading the way out of that group is none other than Jalen Reagor, the former first-round pick, who has been a total disappointment during his first two seasons in Philadelphia. The wide receiver has had a solid camp and was listed at the top of the depth chart at kick returner and punt returner.
Two names that could challenge him are Covey and Cain.
Covey, who is 25, was a very productive player at the University of Utah.  He amassed 2,311 total yards, 11 touchdowns and five scores in the return game. If he can show he can be a play-maker in the return game, he might be able to over-take Reagor, who hasn't been very productive in that role.
"I don't think it's going to be a secret to the rest of the NFL, is how quick he is," Sirianni said. "Everyone is going to see how quick he is."
RB: Jason Huntley and Kennedy Brooks
The Eagles are a bit thin at running back, adding two players this past week with injuries to Miles Sanders, Kenny Gainwell and Boston Scott.
Running back Jason Huntley has a chance to show he belongs as a fourth running back and in the return game.
the former Lions fifth-round pick has the speed to make things happen in the return game, but also in the pass game out of the backfield.
Huntley showed speed and quickness in camp, using a stiff-arm and some toughness along the way.  He has been a regular standout at camp this year, both running the ball and with his pass catching ability. .
Another name to keep tabs on in the running backs room is rookie Kennedy Brooks, who is a bigger back, who had three very productive years at Oklahoma, totaling 3,529 yards from scrimmage and 31 total touchdowns.
CB: Zech McPhearson, Josh Jobe and Mario Goodwich
The Cornerback position behind starters Darius Slay, James Bradberry and Avonte Maddox is very much up for grabs.
McPhearson is the highest drafted player of this group, but there is plenty of intriguing talent at this position.
Jobe is one of those intriguing talent, who could make the team as an undrafted free agent.  The Alabama alum has good size and so far has shown the ability to cover in camp.  Will that translate at NFL game speed?  That is something to keep an eye on.
Another player to keep an eye on and has gotten high praise is Mario Goodwich.
Goodwich has good size and is a quick and physical player who only started for one year at Clemson.  However, he made the most of it, signing with the Eagles as an undrafted free agent.
Outside of that trio, Kary Vincent, Tay Gowan, Mac McCain III and Josh Blackwell should also be on your radar.
"That's a good room," said Eagles defensive coordinator Jonathan Gannon. "I like where they are at, and I am excited to see those guys plays versus some other people."
LB Nakobe Dean
T.J. Edwards and Kyzir White have stood out in camp thus far, but it could take game action for Nakobe Dean to jump off the page and show what he can do. .
Of the three, Dean will likely command the most eyeballs on Friday night.
Despite Edwards and White having solid camps, Dean still might be the most intriguing linebacker on the group. Playing in the team's first preseason game will be the first chance for Eagles fans to see the third-round pick from Georgia.
The biggest thing to watch in terms of Dean is how he performs in game situations, his athleticism and speed, something Eagles linebackers have lacked for quite awhile.
"He's very smart, he's tough, and he's very physical," Eagles defensive coordinator Jonathan Gannon explained. "Happy with where he's at. He's going to continue to improve, and we'll get a good look at him here coming up in the next couple weeks."
Tonight will be the first opportunity for Eagles fans to get a good look at Dean.
You can listen to the Eagles and Jets with Merrill Reese and Mike Quick.  Pregame coverage starts at 6:30, kick-off at 7:30 on South Jersey's official ome for Eagles football 97.3 ESPN. 
Beach Bucket List: South Jersey's Best Beach Bars