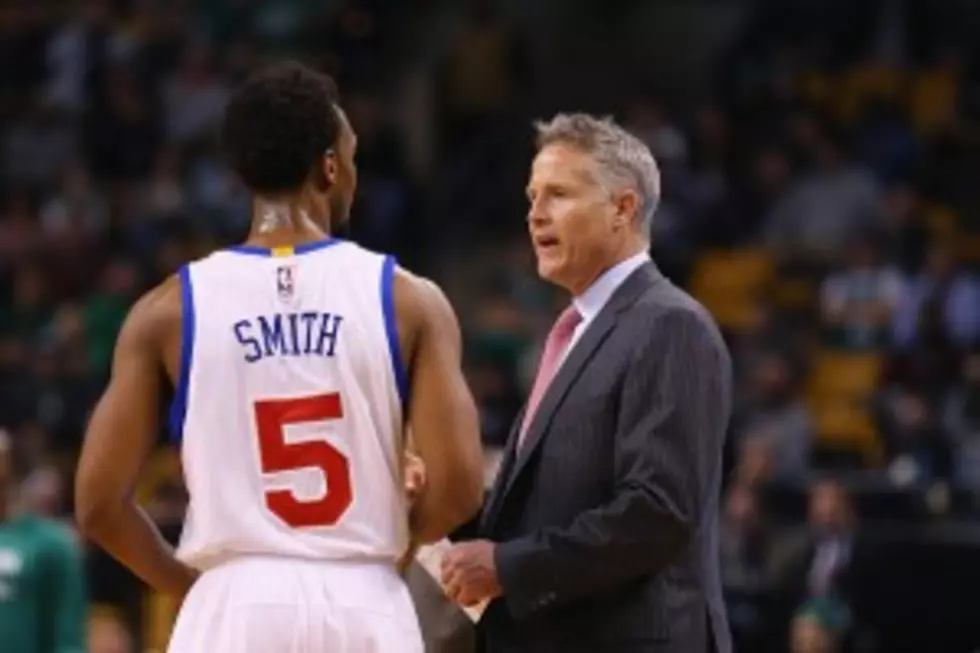 Sixers Coach Brett Brown: "We Are Ahead of the Game"
Sixers coach Brett Brown says the team is ahead of schedule. (Maddie Meyer, Getty Images Sport)
Sixers coach Brett Brown wasn't fully supportive of the deadline trade that sent out Michael Carter-Williams, national NBA writer Sean Deveney of The Sporting New, told us on the Thursday edition of the Sports Bash. However, as we discussed with Deveney, the only tension between the coach and the Sixers front office is minimal.
"I think we are ahead of schedule, but we have a heck of a long way to go," Coach Brown acknowledged."  We're really trying to build the culture, a lot of things the public wouldn't see, cause you just see us play on game night or see our win-loss record.  Even if we miss out on some of these first round picks, they are still ours, we just get them a year later.  From all perspective I think we are ahead of the game."
"This is a collective effort, we're all on the same page, we're all in this," coach Brown continued.  "We need everybody if we are going to deliver on such a very difficult accomplishment., growing a team in the NBA."
On Friday, we asked coach Brown directly about the direction of the Sixers and the development of his team coming to the end of year two.
(Listen to Sixers coach Brett Brown on the Sports Bash with Mike Gill)
"Everybody understands the nature of the program now, Brown explained. We really enjoyed coaching these guys, they play hard you know they are into the development side of it all, its gone quick."
While many players have come and gone, coach Brown said that he has had the opportunity to learn a lot about these guys and seems major potential in a couple of the guys.
"It validates if you believe in something, you just draw a line in the sand and never let it go, Brown stated.  "Players can improve, they put the time on the court and you're seeing massive improvements in almost all of our guys, some dramatically, and we're the youngest team in the history of the sport.  That's a heck of an accomplishment."
Coach Brown told me how happy he is with the improvement of his team's defensive effort this season, going from 27th overall in team defense up to 11th overall, giving up almost 10 points per game less than a year ago.
"He's changed it a lot," Coach Brown admitted about Noel's role in the defenses improvement.  "That's our crown jewel as it relates to the rim protection.  When we were really rolling, his ability to block shots and have that level of presence at the rim, confirm that."
The theme of this season seems to be centered around improvement, the teams overall defense has improved, but so have many of the individuals on the team, including Noel.
"Nerlens is the obvious one, his numbers post all-star break are historic," Brown said.  "When you start to take a look at the company his numbers are amongst, the steals, the blocks, and how many people have averaged the three of them, the points, steals and blocks, he's in elite company."
"Then there is Jerami Grant," Brown continued.  "I feel like he ticks a bunch of boxes, we're trying to see if he's a four-man, a three-man, we're not really sure, but his growth has been excellent."
One guy fans haven't see in games yet is Joel Embiid, the third overall pick in this years NBA draft, he hasn't appeared in any games due to an injured foot.  However, coach Brown knows he is a huge part of this rebuilding project.
"When you actually see him, he's one of these people that has an amazing presence, with the size of his body." Brown described  almost in awe when talking about Embiid.  "I feel like he's going to end up being a two-way player, I think his offense and defense can be unique.  He's been fantastic, our goal is to deliver him to the summer league courts."
While coach Brown loves what he sees from Noel and Embiid and is excited to pair those guys together, the NBA draft features two big man slated to be at the top of the draft, Jahil Okafor of Duke and Karl Anthony Towns of Kentucky, Brown says its his job to make it all work.
"You end up taking the best players," Brown explained.  "If there is a clear-cut best player, you take the best player and learn how to make it work."  If its a little bit murky, if its a little bit delineated on who's number one, maybe you draft to fit a puzzle  - the bottom line is the draft is healthy and we're excited for these next few months."
The Sixers close out their season on Wednesday night against the Miami Heat, which just like this season of growth is an important game in the future of the team.  With a win, that could help them secure Miami's pick, a loss could help make their own pick a better pick - such is life on the rebuilding scene.